20 Beautiful San Francisco Pictures from a Photographers Eye
San Francisco, officially the City and County of San Francisco, is the fourth most populous city in California and the 13th most populous city in the United States. It is the most densely settled large city (population greater than 200,000) in the state of California and the second-most densely populated large city in the United States.
Here's another roundup of beautiful pictures. We are always in search of beautiful pictures for inspiration. Today we are showcasing beautiful San Francisco pictures from a photographers eye. Simon Christen is a professional animator and an aspiring photographer. He grew up in Bern, Switzerland. During high school he was introduced to computer graphics (CG) and started playing around with programs such as Photoshop and 3D Studio Max.
Simon has been fortunate to work at studios like Pixar and Disney. He is currently an animator at Pixar. In the past few years he developed a passion for photography. It started as just browsing portfolios he admired; wondering how their pictures were taken, processed, and treated. His love for traveling and being outdoors has taken him to some great places around the world and given him excellent opportunities to take stunning pictures. He hope to continue traveling, exploring and experimenting with his photography. Click here to see the large version of the pictures on Simon's website.
Moon melting into the fog over San Francisco, California
Downtown San Francisco, California
Rainy night on the pier in San Francisco, California
Misty night setting over San Francisco, California
Storm clouds dissipate over San Francisco, California

Icy night sets in over San Francisco, California
The beacon atop the pyramid is turned on over the holiday season
Glowing city of San Francisco, California

Blue hour over San Francisco, California
Golden Gate Bridge framing the city of San Francisco, California
Bay Bridge with San Francisco during blue hour
Sun setting over San Francisco, California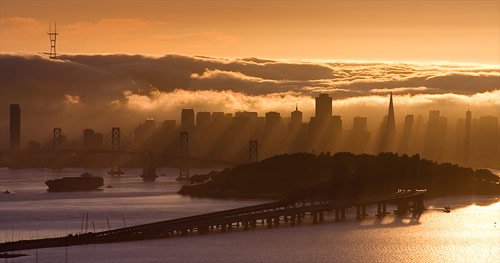 Fog about to swallow San Francisco, California

Steaming city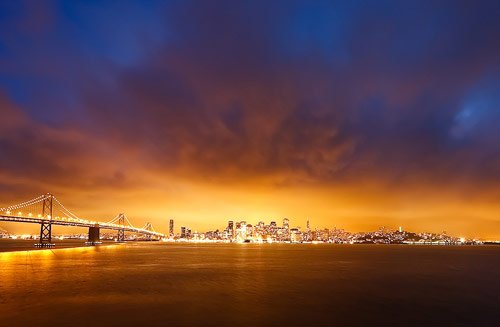 Glowing San Francisco
Bay Bridge leading into the city
Skyline of San Francisco close up
Happy 2010 fireworks
Misty Golden Gate Bridge with San Francisco in the background
Sun setting over Golden Gate Bridge with Alcatraz in the foreground