5 Fantastic E-Commerce Hosting Sites
In business you are only as good as the services you deal with. If you are getting a start in e-commerce, you want the services that fit your goals the best. From your supplier, to your internet provider, and even your e-commerce site host, you want to be sure you are getting what you need, when you need it and that your satisfaction is their priority. With so many options for hosting out there, it can be overwhelming choosing the right one. Therefore here are 5 suggestions for hosting companies you should check out.
1. Shopify.com
When you search Google for e-commerce hosting, the first site that pops up is Shopify.com and with good reason. Their service in my opinion is the best for those just starting out in online retail. With packages ranging from $29 a month for basic up to $179 a month for unlimited, they are affordable for small businesses.  All of their packages come with free setup and templates that are easy to customize. Shopify.com also includes many ways to get help if you get stuck. Between their blog, tutorials, forum, and customer support, you are never left with a problem for long. Their sites are easy to update and include many different options for SEO. They also offer a 30 day free trial to let you test drive their service before paying a dime. They include a shopping cart that makes it easy to set prices, add coupons and discounts, and keep track of inventory.
2. Volusion.com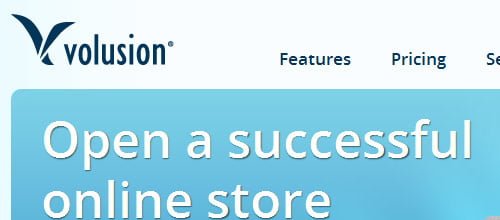 Volusion.com is another great e-commerce hosting site. Their packages range from $19 for their basic store to $149 for their platinum package. They include a 14 day free trial, which is a bit short, but will give you a good feel for how their services operate.  All of their accounts include free setup, free templates, no transaction fees, and 24/7 support. Between their customer service line, chat support, knowledge base and video tutorials, all of your questions can be answered no matter which route you choose.  With easy setup and customization your site can be what you imagined it to be at a great value.
3. Bigcommerce.com
This e-commerce host has a lot of options for a new business. With 5 different packages ranging from $24.95-$299.95 a month, there are plenty of choices to match the size of your store. They include free and easy setup as well as staff logins for your employees.  Their templates are fully customizable with easy drag and drop design modes as well as access to the HTML and CSS code for those designers who prefer complete control. Like the other sites they offer phone support, though it is not 24/7. You can also email them for any questions you may have or check their blog for any posts that may give you the information you need.
4. 3dcart.com
This site was voted one of the best.  With over 10,000 merchants trusting 3dcart.com, your site will have a good reputation from the start. Their pricing ranges from $19.99-$129.99 a month and includes free setup. They offer a 15 day free trial to check out their services. They include free templates ready for easy customization as well as many different features such as mobile design for customers accessing your store on a mobile device. They include 24/7 customer service via phone, chat, and email. There are plenty of informative tutorials, a forum, videos and a knowledgebase for you to quickly learn everything you need to know about your new store.
5. Corecommerce.com
Corecommerce.com follows the same standard as the others in terms of services. Their prices ranges from $19.99-$149.99 a month with free setup. All of their plans include mobile commerce and a Facebook storefront to give addition portals for sales. They have free templates for you to choose from and customize to match your branding. Their customer service is 24/7 and they too have a chat, knowledgebase and video tutorials. This is another great option to look into when comparing e-commerce hosting. Whether you are new to online retail or are looking for a new host to transfer an existing store to, these sites may be what you are looking for. Compare their features, ease of use, and functionality to be sure they are exactly what you need. With pricing pretty standard and plenty of options for support, these sites could prove to be a valuable asset for your business.