20 Creative Business Cards that have Alternate Uses
Nothing turns the head and seizes the attention like novel and innovative design. The following 20 business cards have these two qualities in abundance. Just hope you're handed a business card like this one day to liven up your meeting and provide some inspiration.
1. Fizz Design Coaster Card
The design meeting over drinks goes well. The designer lifts your empty glass, gives the coaster a rub and says, "Call me." You are in the presence of greatness.
2. Antonios Menu Card
Perfect for a restaurant, this marvellous menu card presents hungry diners with the days and times their favourite eatery is open for them to come in and chow down.
3. Ninja BTL Throwing Card
An exec is in a heated battle. Struck by a throwing card, he crawls behind his desk. Removing the card, he realises Ninja BTL offer what he's looking for. Thanking his assassin, he makes the call…
4. Chest Physician Balloon Card
Try to blow up the balloon. If you need to stop for a wheeze, you need to call the chest physician on it. Quick, get the number before it deflates.
5. Head2head Shop
Yeah man, providing perforated filters for your next joint on their card was a great idea by head2head shop. "Roll with us," the company says.
6. Paint & Cia Paint Card
Truly ingenious, these magnetic business cards in automotive colours can be applied to cover up scratches, until you call the company on the card to complete the job.
7. Headhunted: Eat the Evidence
This headhunter covers his tracks with his inventive edible business cards. Tasty idea.
8. Egil Paulsen Easel Card
This cute card paints a pretty picture, placing its business clearly in the frame for a call.
9. Christopher Soprano Vintage Billboard Card
Wonderfully promoting an illustrator as a true magician, this vintage billboard card is magic.
10. Paperplane Graphics Ltd Card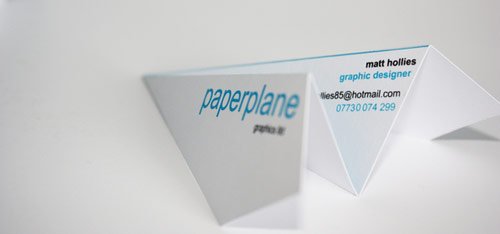 Seeking to soar above the competition, this paper airplane card must put recipients on cloud nine.
11. Krakatua Greeting/Business Card
Combine a seasonal greeting with a seasonal business proposal with this double whammy card.
12. Hair Loss Visualiser Card
Don't you just love bald advertising? In terms of promoting its business in a fun way, this is a shiny head above the rest.
13. DJ Turntable Business Card
It would be impossible not to scratch along to some tunes with this spinning turntable card promoting a DJ. Gr-gr-great design.
14. Adrian Likins Caliper Card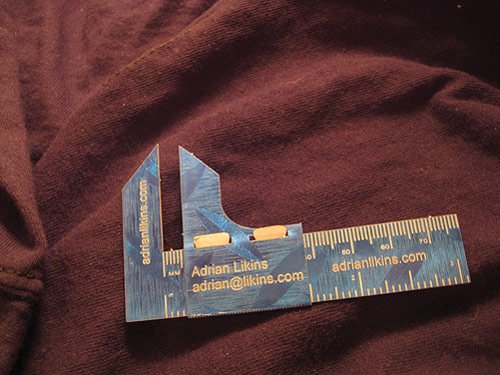 Clearly made to measure, this caliper card is an excellent example of novel practicality.
15. Naotaka Aogaki Pen Holder Card
Bin your tidy tub and simply put this highly practical pen holder card to good use.
16. Shuriken Card
Quickly silence those shouting CEOs by throwing this swift and sharp shuriken card.
17. SheetSeat
Folding out into a little seat, this card gives the others you collect a place to sit.
18. Lindsey Casabella Stylist
Anyone with bed head can use this card for a crafty comb before their appointment with the hair stylist.
19. Lush Seed Card
The old adage says you reap what you sow in business; in this case it's clearly grass.
20. Cardapult
We all need clear business aims, perhaps this awesome cardapult will help with your accuracy?