30 Best Hand Picked Wallpapers from National Geographic
We all love desktop wallpapers and they are always a great source of inspiration. Wallpapers should be changed frequently to spice up your desktop. We showcased different desktop wallpapers in past such as Minimal iPhone 4 Wallpapers, Google Wallpapers and Mac Wallpapers. So today we are featuring best hand-picked wallpapers from National Geographic. All images are high resolution to fit your desktop.
National Geographic features amazing wallpapers and photography. We hope you will love the following wallpapers selection from National Geographic. You can download them from the 'Download Source' link or clicking on the image. Enjoy.
Empire State Building, New York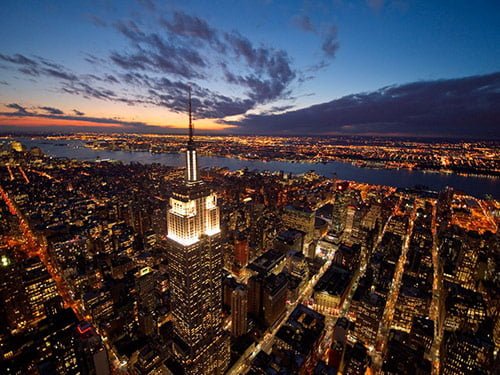 In the city that never sleeps a new awareness about energy means the Empire State Building now uses bright lights at night only to celebrate holidays and special events. And power-hungry Manhattan has generating potential of its own: A tidal-energy project under development in the swift-flowing East River could power a thousand homes.
Mediterranean Sea
Feel the sea, the silence, the blue, the liberty. Mediterranean Sea, Minorca.
Wind River Roadless Area, Wyoming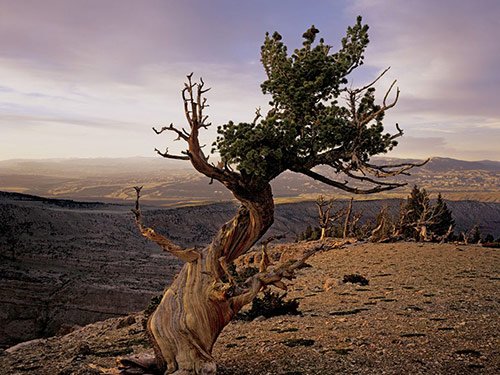 No signs point the way here, only the arthritic limbs of a pine gesturing to an endless sky. It is the wildest of the wild, a glacier-scoured terrain unmarred by roads, tugged at by wind, on the shoulder of the Continental Divide. This preserve of the Eastern Shoshone and Northern Arapaho dates back to 1937, decades before the United States passed the Wilderness Act, in 1964.
Lions Gate Bridge, Vancouver
Was in British Columbia last June for a photography project. Woke up early in the morning to take a picture of Vancouver from the North Vancouver mountains. When arrived on location, the light was perfect! The city skyline and the Lions Gate Bridge through the fog made the scene especially magical.
Bosque del Apache National Wildlife Refuge, New Mexico
This was taken in December 2010 during first trip to Bosque del Apache National Wildlife Refuge in New Mexico. It took four days, waiting in the cold weather an hour before sunrise. On the fourth day, everything fell together. The gorgeous sunrise, wind direction, and snow geese all took off right in front of lens.
Lake of Zug, Switzerland
A snow-covered dock at the Lake of Zug in central Switzerland right before sunrise
Port Orford, Oregon
A quaint and cozy little seafood restaurant on the commercial dock in Port Orford, Oregon, is all decked out for the holidays in this photo taken at first light. Life in this small, rustic fishing village is frozen in the past when life was much less hectic and when the simple pleasures of life were still noticed and appreciated.
Grand Canyon National Park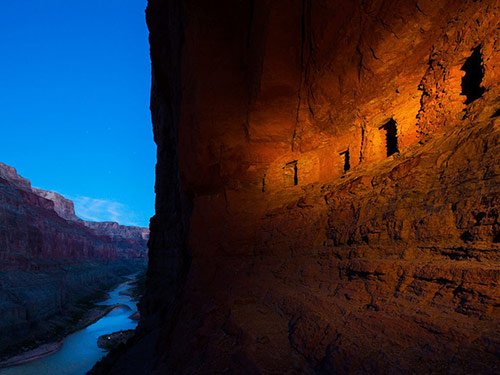 Ancestral Puebloan granaries, Nankoweap Canyon, Colorado River, Marble Canyon, Grand Canyon National Park.
Namsto Lake, Tibet
In Tibetan, Namsto means "Heavenly Lake," and the serene beauty should not be missed by anyone who travels to Tibet. Its purity and solemnity are symbols of Qinghai-Tibet Plateau, and it is considered one of the three holy lakes in Tibet. Namsto is famous for its high altitude (4,720 meters) and vast area (1,961 square kilometers) and as a sacred Buddhist place with many Tibetans undertaking a yearly pilgrimage to make the "Kora" around the lake.
Giant's Causeway, Ireland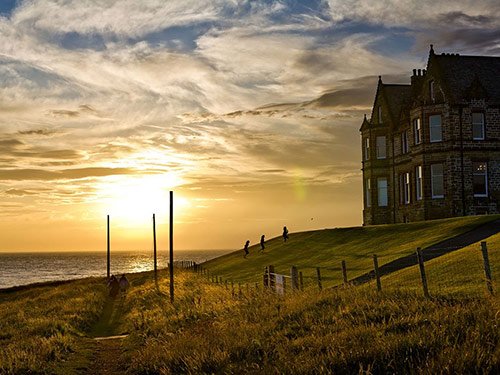 People visiting Northern Ireland necessarily go to the Giant's Causeway. But it is more than interesting to push your curiosity by taking the cliff path at the west of the car park. Beautifully typical Irish landscapes are expecting you!
Hang Son Doong Photo
A half-mile block of 40-story buildings could fit inside this lit stretch of Hang Son Doong, which may be the world's biggest subterranean passage.
Sunset, Indonesia
A fisherman in Rawa Pening, central Java, Indonesia.
Santorini, Greece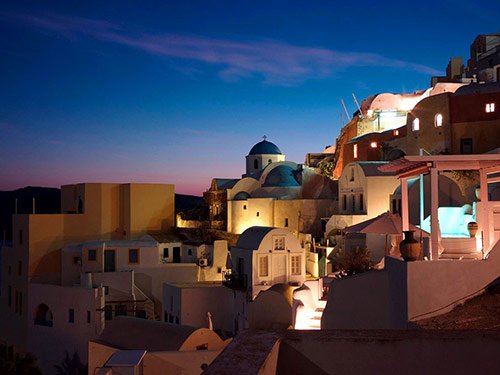 Went to Santorini toward the end of the season last year, when most of the shops on the island started shutting down for the winter. Wanted to get a nice twilight shot of the often photographed Oia. Used the meter on the camera to expose the shots, but it was consistently darker than what had hoped for. So for the heck of it, just left it exposed as long as possible, and the color just took on a life of its own and the town became a beautiful model doll. October 2007.
Anemones and Soft Corals
Vibrant anemones and soft corals are part of the ecosystem in Svalbard, Norway's Arctic archipelago.
Eyjafjallajökull Volcano, Iceland
Lightning veins the Eyjafjallajökull volcano's ash plume, which roiled air travel this spring. Such "dirty thunderstorms" may occur when rock and ice particles loosed by exploding magma collide in the atmosphere.
Sand Dune, Fraser Island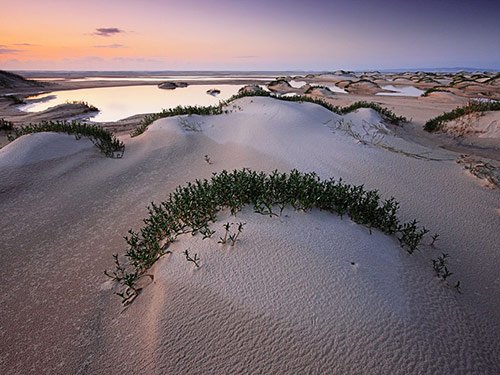 Pioneering plants get a toehold above the tide line on Australia's Fraser Island.
Rooftop Golf, New York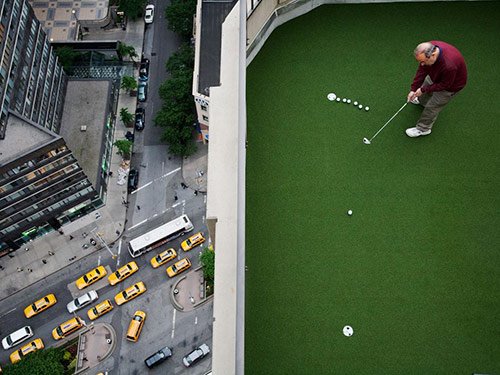 Big city, short game: Resident Charlie Bernhaut works on his stroke 34 stories above 63rd and Broadway, on his condominium's 18-by-32-foot (5-by-9-meter) putting green—one of several now lining rooftops in Manhattan.
Butterfly Egg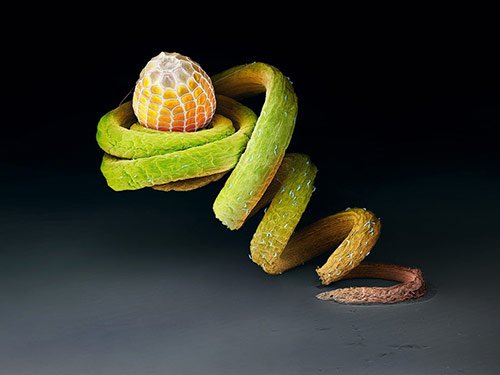 Perched on the tendril of a Passiflora plant, the egg of the Julia heliconian butterfly may be safe from hungry ants. This species lays its eggs almost exclusively on this plant's twisted vines.
Lightning, Chicago
Chicago's Sears Tower backlit by multiple bolts of lightning. The picture was taken August 4, 2008, during the severe thunderstorm that spawned several tornadoes in the Chicago area.
Starry Sky, Washington
Driving home over the Waterville Plateau, a waxing sliver of a moon that fell early below the horizon made for a perfect moment of stargazing. What was even more eerie though, was that the wind had completely stopped also. Even from about 30 feet up a small embankment could hear shutter trip for a 25-second exposure. The lights on the horizon, shining from over 70 miles away, were the city lights of Ephrata and Moses Lake, Washington.
Muscatine, Iowa
Under the cover of darkness, industry continues to expel smoke and steam into the wind currents along the Mississippi River. This image was captured in Muscatine, Iowa, as part of a 110-day expedition down the entire length of the river.
Hengill Mountain, Iceland
Hengill mountain is close to Reykjavik and is famous for its geothermal areas and vivid colours.
Autumn Landscape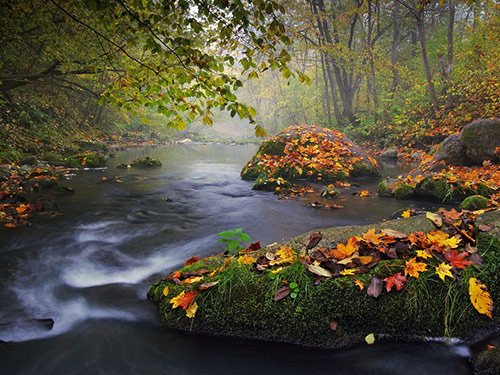 Autumn colors are a beautiful subject to shoot. This place has a special aura all year long, but at autumn it reveals its best.
Mosaic Jellyfish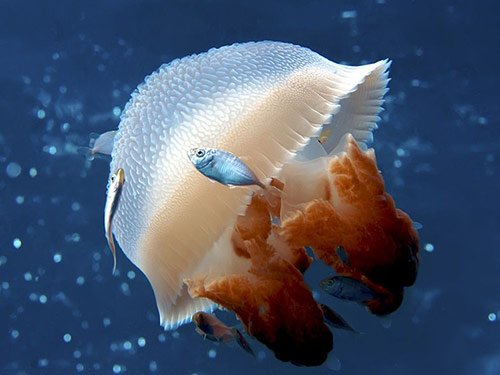 A mosaic jellyfish floats serenely in the waters of the Coral Sea, about 100 nautical miles from Cairns, Australia. Jellyfish are ubiquitous in the Earth's oceans. They can thrive in warm water and cold, along coastlines or out in the deep. Their bodies are about 95 percent water. And though they have no brains, jellyfish have somehow been smart enough to survive for over 500 million years.
Big Cypress Reservation, Florida
In the green firmament of a slough, galaxies of duckweed are stirred by slow moving waters. Florida's Seminole call this section of swamp the Jurassic.
National Performing Arts Center, Beijing
China's National Performing Arts Center hosted its first concert in 2007.
Endeavour Shuttle Launch
A tail of smoke chases the space shuttle Endeavour as it lifts off from Cape Canaveral, Florida, on March 11, 2008.
Palouse, Washington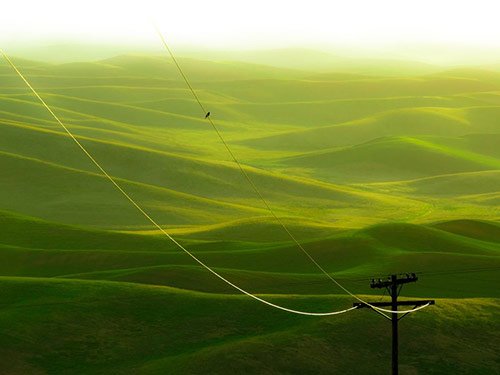 Sunrise lights up the verdant hills of Palouse, Washington, beneath the watchful gaze of a lone early bird.
Cormorant
Most of us know that sunsets can provide dramatic colors in the sky. But many people don't realize that if they keep shooting after the brightest color seems to fade to the naked eye, a richer hue of the color may appear on film or flash card.
Camel, Socotra Island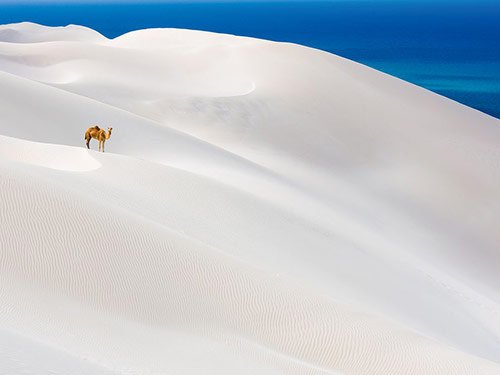 On the dunes of Socotra island, Yemen. Seconds later the camel set off in a run down the dunes, its feet sinking into the sand. It vanished behind the dunes, leaving me with this picture and the most awe-inspiring memories of Socotra.