30 Stylish Designer Portfolio Sites
Creating a personal portfolio website is the most challenging task for any designer. Having beautiful portfolio is must to grab users attention.
Go through the following 30 stylish collection of portfolio sites to draw some inspiration for your own projects. Some designers approached minimalism approach while others with rich color design elements. Each of these portfolios delivers an exceptional, truly inspiring visual experience to the visitors. This design showcase is worth seeing whether you are in a creative search or just looking for some inspiration.
If you like this article, you might be interested in other article on Dark Portfolio Sites.
Portfolio Sites
Un Oeil Graphik
Creative and clean portfolio website of a french designer Christopher Sadowski with parallax scrolling effect. He work as an Art Director in an agency where he design web sites and event editorials.
Waheed Akhtar's Portfolio
Waheed is a web designer from Dubai, who design functional, creative & search engine friendly websites. Good example of minimal website design.
Shane Prendergast
Interesting portfolio site of Shane Prendergast. He's a Web Designer & Developer currently based in North Yorkshire.
Portfolio of web designer,developer and friendly chap. His website is a mixture of cool illustrations, icons and texture, all balanced very well.
Pius24
Pius is a Pinoy front web end designer and developer. This dark portfolio site have cool animation on some elements of the page.
Design Addicted
As you can image from the name, It's a portfolio website of Kerstin Fuderholz and he's really design addicted. He has some really cool work in his portfolio including latest work from 2012.
Pure Pleasure Design
Dark portfolio website for Inis Maria Gamler whos' passionate about design and photography. She design websites and make her hands dirty with HTML5 and CSS3.
Tim Roussilhe
Well, as you can see on his logo he's a Web enthusiast. That means: he like the digital world in all its parts: web development, graphic design, and he focus on project management and website design.
Daniel Mall
Dan Mall, an award-winning designer from Philadelphia showcasing his portfolio in very creative and unique way. Website worth checking!
Roxanne Cook
Roxanne design and build beautifully crafted web experiences. She worked with a variety of clients on some neat projects ranging from social networks to user interfaces to event posters. Her portfolio site blends very well with background colors and texture.
Guilherme Bento
With light-years experience in web development, he build efficient digital solutions for businesses. His website has cool parallax and scrolling and masking effect. You should visit his site to get inspiration on Parallax scrolling.
Craig Morrison
Craig is a  freelancer who, for the last 7 years, has been dividing his time between writing, directing and designing in the city of Toronto, Ontario Canada.
Alessandro Vallainc
Another creative website showing skills and portfolio in very unique way.
Glamour Portfolio Site
For Glamour, a dream project is creativity and efficiency, simplicity and features, fast turnaround and complexity all brought into one.
Denise Chandler
Web design portfolio of Denise Chandler using attractive typography and animation on the page for links and text.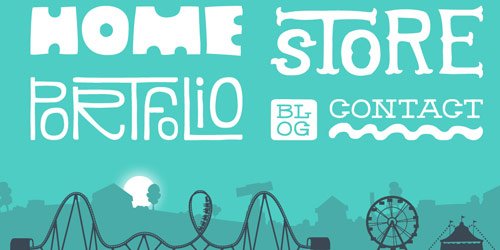 Davide Baratta Portoflio
David Baratta, a young artist in Rome studied graphic design and multimedia at the Academy of Arts and New Technologies. Deal with graphic and web design with passion and enthusiasm.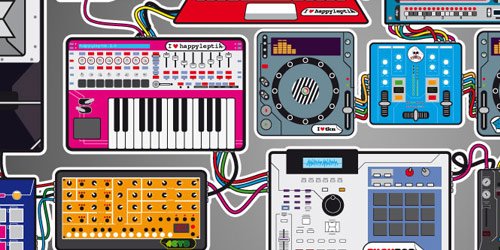 Hellocihan
Beautiful portfolio site with grid-based layout design.
Rodrigo Marchena Portfolio Website
Beautiful example of big typography in web design. Rodrigo is a frond-end developer in Belo Horizonte, BR.
Studio Chirpy
Studio Chirpy is a portfolio site of Bristol-based graphic designer Max Saunders, delivering quality work through identity, print and web.
Casey Britt
The portfolio of Casey Britt  living in Brooklyn, NY. If you aren't currently on an iPad, you should definitely check out this site on one when you have the chance.
Mathieu Dby
Beautiful black and white theme portfolio of a Freelance Art Director, Mathieu.
Dawid Tomczyk
Awesome portfolio website design and cool background texture. Dawid Tomczyk is a web/graphic designer and front-end developer from Poland with a passion to create.
Andy German
Textured grid-based portfolio design. Andy is a designer and illustrator currently working at JWT in London
Bee Creative
Portfolio website of a Graphic and Web Designer with a passion for photography. Centered layout with yellow, blue and dark gray as base colors.
Web Design Lab
Web Design Lab is a portfolio of Carl, a freelance Web/UX designer and front-end developer based in the Philippines with 5+ years of experience. The site have excellent illustrations, backgrounds and beautiful typography.
Fitz Fitzpatrick
Fitz, an Australian freelance illustrator and designer based in Sydney. He love to draw and design nice things, and that's pretty much it really. You can judge the creativity of this designer very clearly from the hand-drawn elements on website.
Laetitia Chenuc
Currently a third year student at HETIC and passionate web designer and computer graphics.
Hasan Syed
A Toronto based web designer, WordPress / user interface & front-end developer. With a whole lot of experience in building & managing websites.
Andri Sigurosson
Andri Sigurosson is an Icelandic web designer and front end developer focused on creating nice things on the web using the latest web standards. Do check his responsive website design on your mobile device for great experience.
Andy Patrick
Born and raised in Scotland, Andy have over 7 years of experience working in agencies with all levels of print, web and commercials. Another grid-based portfolio site with great use of CSS3 and jQuery.