22 Inspiring Examples of Big Background Images in Modern Web Design
Large photo backgrounds trend has become very popular in recent years. Using big background image with minimal approach to other design aspects can bring a strong impression to your website. If you don't use minimal approach with large backgrounds, the design will look too cluttered and difficult to navigate. This approach is not great for every type of website.
To give you some ideas, we gathered 22 inspiring examples of big background images in modern web design for your inspiration.
Big Backgrounds in Modern Web Design
Lifestyle Federation
Lifestyle Federation (LF) is a new breed of branding and marketing firm that offers one-stop solution to corporations targeting at high net worth individuals (HNWI).
Case 3D
Case3D is an architectural visualization studio based in Serbia. It was founded in 2009 by partners Nebojsa Zaklan, Rade Nadoveza and Danilo Micic.
Frank Digital
Frank Digital craft beautiful user centric websites and digital campaigns. They are an independent digital agency with offices in Sydney and Melbourne.
Raymond Weil
Swiss luxury watchmaker RAYMOND WEIL has released its new brand film and dedicated microsite to communicate on its values as well as its DNA and reinforce its attachment to music. Discover the brand's movie Precision is my Inspiration.
Idiom Interactive
Idiom is a San Diego Web Design agency specializing in digital strategy, User Experience Design, User Interface Design, and Web Design San Diego.
Smog Bicycles
Smog Urban Bicycles is a Parisian brand that designs and assembles custom fixies.
Linda Farrow
Timeless in design, uncompromising in quality, unabashedly luxurious, Linda Farrow takes sunglasses to the next level.
Makers Quarter
Makers Quarter, the new Urban District and Real Estate Development in Downtown San Diego. When looking to imagine the future, it is best to start by embracing the past, celebrating the present, and dreaming about the future.
Mahedine Yahia
Mahedine Yahia is a 20 years old french designer, currently enrolled in a Computer Engineering and Digital Communication Management Master program at HETIC in Paris. The design is much more than a passion for him which you can see in his website.
Epok Design
Looking for a freelance graphic designer? You have to find two! On the left, the Swiss rigor Marine, and right Italian impetuosity of Manu. Epok Design is a mini-community but it is the maximum.
Clarke Design Group
Clarke Design Group specialize in traditional architecture, design, and planning adhering to the classic principles of the lowcountry vernacular.
LRXD
LRXD is a full-service, strategy-based traditional and digital advertising agency with high-caliber creative and expert technology.
185 Plymouth Street
185 Plymouth Street (DUMBO, Brooklyn) offers 10 large, family-sized lofts, most with outdoor space and 13'+ ceilings. Offered by Alloy Development.
Playground Inc.
Playground is a digital creative agency that strives to make the web a better place.
Strategik
Strategik is a full service digital agency based in the heart of Sheffield. Strategik's mission is to provide cost effective digital design services which are focused around providing the best possible return for our clients investment.
Intersection
Intersection is a brand experience team who create authentic exchanges between brands and people.
Sweez
The name Sweez comes together when the English words "sweet" and "freezing" (sweet cream in Portuguese). This connection came about after long walk of the partners in Portugal, during the research phase. They shivered, next to the Aliens and Borders, and thought, as she was "freezing." After, together with the "sweet" (sweet) and named the venture.
Visions Service Adventures
VISIONS is a summer volunteer program that surpasses the superficial, an experience that is carefully structured and well supervised without seeming so.
Vintage Hope
Based in Bangula, Malawi, Tiyamike is a special place offering hope and love to 120+ children who have no other place or avenue to turn to. It is run by Will and Pam Phillips a 'retired' (!) christian couple who founded Tiyamike in 2003.
Crema Coffee
Crema is the rich foam topping of espresso, the mark of excellence, and an indicator of deft preparation and ideal extraction. Crema signifies our aim, our ethos, and passion for excellence.
Cedric Vella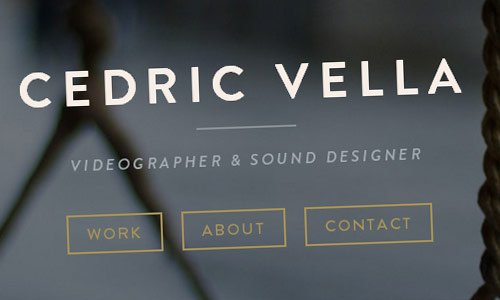 A freelance videographer and sound designer based in Malta who spent the first 7 years of his career working as a sound engineer at Temple Studios.
Ringle
Ringle is a blend of modern yacht technology with timeless values from the high art period of yacht design, reminiscent of the first half ofthe twentieth century.
Conclusion:
We hope you liked these designs. What's you take on large backgrounds? If you know something about pros or cons and like to share with your readers, kindly do it in the comments below. You may also like article 20 Examples of Cool Backgrounds in Web Design.