Mega Mind: Download Free High Resolution Desktop Wallpapers
Megamind is an animated supervillain comedy film of 2010 produced by DreamWorks Animation. This post is a collection of free high resolution wallpapers which you can download from the links below. Hope you like these desktop wallpapers and it bring some inspiration into your work.
Some time back we also listed 10 great websites where you can download free desktop wallpapers. Hope this list also help you find your desired wallpapers to decorate your desktop.
Megamind Desktop Wallpapers
Megamind is the most brilliant super-villain the world has ever known… and the least successful. Over the years, he has tried to conquer Metro City in every imaginable way. Each attempt, a colossal failure thanks to the caped superhero known as "Metro Man," until the day Megamind actually defeats him in the throes of one of his botched evil plans. Suddenly, the fate of Metro City is threatened when a new villain arrives and chaos runs rampant, leaving everyone to wonder: Can the world's biggest "mind" actually be the one to save the day?
Mega Mind
This brilliant super-villain has one thing on his mind: to overcome his arch nemesis, Metro Man, the city's local superhero. Megamind is enormously creative in his efforts to destroy Metro Man and repeatedly kidnaps Metro Man's girlfriend, Roxanne. To his credit, however, Megamind remains certain that one day very soon, he will triumph.
You might be interested in following related wallpapers: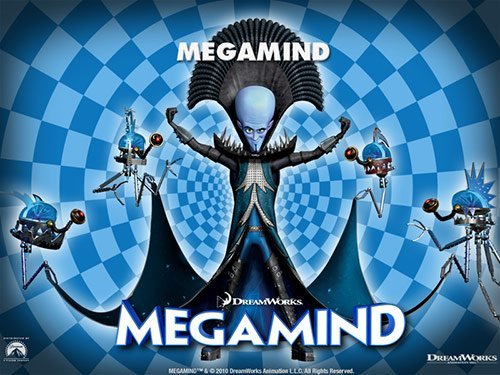 Download: 800×600 | 1024×768 | 1280×1024
Download: 800×600 | 1024×768 | 1280×1024
Minion
This creature is Megamind's only reminder of his long lost home planet: a pet "fish" that was carried across the galazy in Megamind's space pod. Megamind built an ape-like robot to house his faithful Minion, who now serves as the villain's loyal sidekick.
Download: 800×600 | 1024×768 | 1280×1024
Download: 800×600 | 1024×768 | 1280×1024
Roxanne
Roxanne is a smart, practical journalist and Metro Man's girlfriend. Her repeated kidnappings at the hands of Megamind have become tiresome. But when her super-boyfriend is destroyed and the landscape of power in Metro City shifts, new development in the good-versus-evil deapartment may just become a topic worthy of writing home about.
Download: 800×600 | 1024×768 | 1280×1024
Download: 800×600 | 1024×768 | 1280×1024
Metro Man
The swaggering, crime-fighting icon is everything a superhero should be – honorable, invincible and universally adored. he lives in a city where the cops can take it easy and where even his frequent battles with Megamind, his archenemy, have become routine and predictable. But to everyone's surprise – even Metro Man himself-Megamind's latest strategy proves successful. He destroys Metro Man, leaving Metro City exposed and hero-less.
Download: 800×600 | 1024×768 | 1280×1024
Download: 800×600 | 1024×768 | 1280×1024
Tighten
Hal is his own worst enemy and he deserves every lousy hand he has evern been dealt. Following Metro Man's demise, Megamind improbably dooses Hal to become his new rival – making the newly christened "Tighten" Megamind's ultimate nemesis. He soon finds that being bad is much more fun which leads Metro City's new superhero to slowly but surely become the most dangerous super-villain of all.
Download: 800×600 | 1024×768 | 1280×1024