35 Inspiring Quotes in Typography Artwork
Typography is an art that involves the use of text to either convey a message or say something. However, as easy as it may it sound, doing typography is as difficult as making a portrait – as it involves the designer knowing each and everything about text, and arranging the text in such a way, in such a design that it appeals to the user.
In this post, we will show you some 35 Inspiring Quotes conveyed with typography artworks. I ask you to not only admire the typography itself, but also read the quotes too, as they indeed, hold great importance in what they try to convey.
Never Do the Same Thing Twice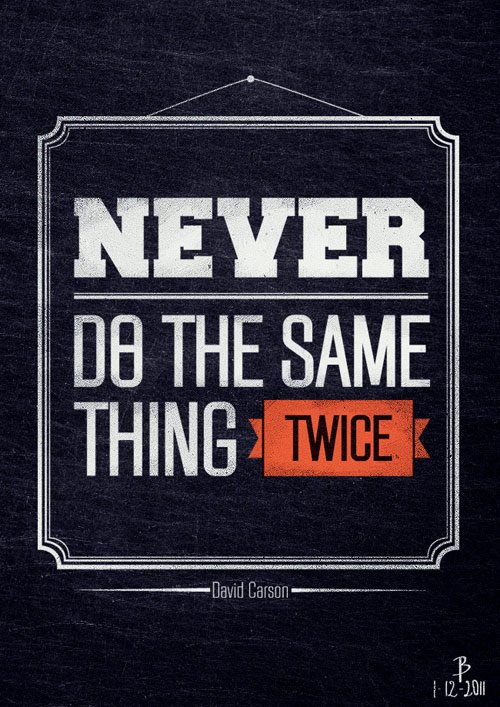 Never Do the Same Thing Twice by ~Espador
Picasso Quote
Out of Focus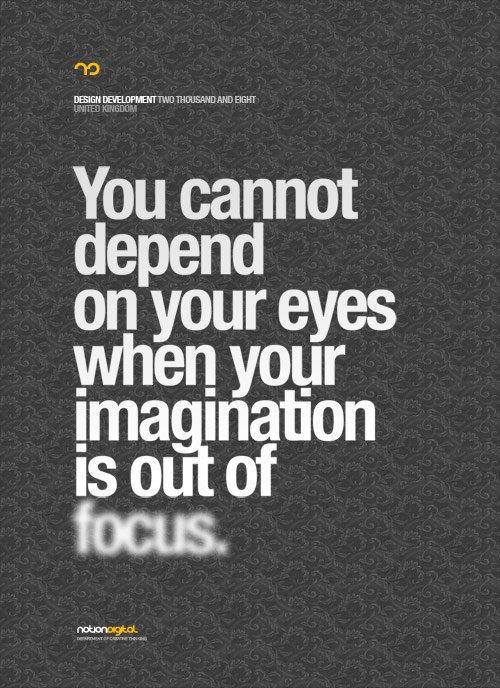 Out of Focus by ~notiondigital
Maybe

Maybe by =stephensheehan
Solution
Life and Wisdom – Inspiring Quote

Life and Wisdom by Aaron Christopher Judd
One for the ladies

One for the ladies by Erik Marinovich
Albus Inspirational Quote in Typography

Albus Quote by ~angelx129
If You Do Nothing
Forever Young in Typography
Personality Gets the Heat

Personality Gets the Heat by Vik West
Puddles – Inspiring Quote
If Not Now…

If Not Now… by *jeffrey
Reminders in Typography Artwork
Think Less Do More
Make a Difference

Make a Difference by ~ItsInUsAll
No Masterpiece

No Masterpiece by Cyprian Malinowski
Arwena – Inspirational Quote
Grow Up
Antique
365 Quote Project

365 Quote Project by Julian Bialowas
Sketch Everything

Sketch Everything by Unknown
Man's Greed

Man's Greed by Andreas Wikstrom
Greys

Greys by Unknown
Bad Decisions
Work Hard don't Stop

Work Hard don't Stop by Renaud Futterer
Just Do It
Perfect Time

Perfect Time by Folklore Design
Greatness

Greatness by ~JDAdesigns
Albert Einstein Quote

Albert Einstein Quote by ~Pink-age
Define Love
Yourself – Inspiring Quote

Inspiring Quote by Unknown
Pablo Picasso

Pablo Picasso by ~mrnaps
Livin' Life

Livin' Life by =alekSparx
Destroy – Inspiring Quote