Top 40 Responsive WordPress Themes from ThemeForest
Responsive designs are the most happening thing right now and it has been a trend with some of the distinguished websites to redesign with adaptable formats for their browser. There are many factors counted aside from the content when designing a website. One of these are the features that are available to ensure that viewers easily access your site wherever they go. Since mobile phones and small gadgets are trending today, many applications and themes have been created to suit several features of many mobiles and tablets.
In this post we showcased Top 40 Responsive WordPress Themes from ThemeForest you can purchase, customize and use. ThemeForest is the most demanding market place, where an individual can easily find WordPress themes of almost every category. To see these responsive themes in action, open the sites up and re-size your browser window and see what happens!
Responsive WordPress themes are becoming more and more popular. Your WordPress theme should use responsive design so if visitors to your website have different browser and media sizes, such as iPads, iPhones and tablets can view your site correctly, without missing content and having to zoom in.
If you are looking for a theme, and aren't sure where to start, check out this list of some of the latest, professional looking responsive WordPress themes. We guarantee you that there may be some templates or themes that might interest you. Enjoy!
Disclosure: Please note that the links below are affiliate links and I will earn a commission if you purchase through those links (at no extra cost to you). I recommend that you do your own independent research before purchasing any product or service. This article is not a guideline, a recommendation or endorsement of specific products.
Aware – Responsive WordPress Portfolio Theme

Aware – Responsive WordPress Portfolio Theme
Slate Responsive WordPress Theme

Slate Responsive WordPress Theme
Rewrite Responsive WordPress Theme

Rewrite Responsive WordPress Theme
Darwin – Responsive WordPress Theme

Darwin – Responsive WordPress Theme
Alyeska Responsive WordPress Theme

Alyeska Responsive WordPress Theme
Jigsaw – Responsive WordPress Theme

Jigsaw – Responsive WordPress Theme
Good Minimal – A Responsive WordPress Theme – ThemeForest

Good Minimal – A Responsive WordPress Theme – ThemeForest
Zig Zag – Responsive WordPress Template

Zig Zag – Responsive WordPress Template
Swagger Responsive WordPress Theme

Swagger Responsive WordPress Theme
Barely Corporate Responsive WordPress Theme

Barely Corporate Responsive WordPress Theme
Rising – Fully Responsive WordPress Theme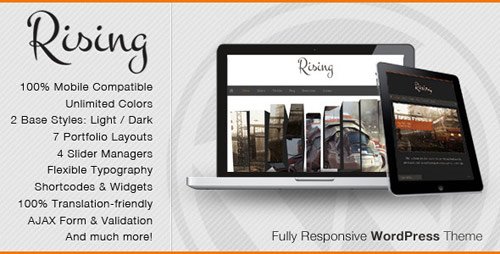 Rising – Fully Responsive WordPress Theme
Akita Responsive WordPress Theme

Akita Responsive WordPress Theme
Gratitude: BuddyPress & Responsive WordPress

Gratitude: BuddyPress & Responsive WordPress
The Arcadian Responsive WordPress Theme from ThemeForest

The Arcadian Responsive WordPress Theme from ThemeForest
Lulu – Responsive WordPress Theme

Lulu – Responsive WordPress Theme
SevenWonders – Clean Responsive WordPress Theme

SevenWonders – Clean Responsive WordPress Theme
SWIX – Responsive WordPress Theme – ThemeForest

SWIX – Responsive WordPress Theme – ThemeForest
Trine Responsive WordPress Theme from Theme Forest

Trine Responsive WordPress Theme
Audiology Responsive WordPress Audio Theme

Audiology Responsive WordPress Audio Theme
Construct, a Responsive WordPress Blog/Folio Theme

Construct, a Responsive WordPress Blog/Folio Theme
Vue Responsive WordPress Theme

Vue Responsive WordPress Theme
Elementi Responsive WordPress Theme

Elementi Responsive WordPress Theme
Angular – Responsive Portfolio

Angular – Responsive Portfolio
Propulsion – Responsive Business & eCommerce

Propulsion – responsive business & eCommerce
XO – Responsive Creative WordPress Theme

XO – Responsive Creative WordPress Theme
View – 2 in 1 WordPress Responsive Themes – ThemeForest

View – 2 in 1 WordPress Responsive Themes – ThemeForest
Focus – Responsive Portfolio & Business – ThemeForest

Focus – Responsive Portfolio & Business – ThemeForest
HyperGrid: Responsive Gallery Showcase WP Theme

HyperGrid: Responsive Gallery Showcase WP Theme
Agency – Fullscreen Portfolio WordPress Theme

Agency – Fullscreen Portfolio WordPress Theme
PixelPower – Responsive HTML5/CSS3 WordPress Theme

PixelPower – Responsive HTML5/CSS3 WordPress Theme
Reach – Business Portfolio WordPress Theme from ThemeForest

Reach – Business Portfolio WordPress Theme from ThemeForest
Super Skeleton WP: Responsive, Minimal, Beautiful

Super Skeleton WP: Responsive, Minimal, Beautiful
Reaction WP : Responsive, Rugged, Bold

Reaction WP : Responsive, Rugged, Bold
Agenci: Responsive Creative/Agency WordPress Theme

Agenci: Responsive Creative/Agency WordPress Theme
ShapeShifter 2 : Responsive, Flexible, One Page

ShapeShifter 2 : Responsive, Flexible, One Page
Pixem -Responsive Portfolio/Studio WordPress Theme

Pixem -Responsive Portfolio/Studio WordPress Theme
Saviour – Responsive Creative WordPress Theme

Saviour – Responsive Creative WordPress Theme
Lucky Times – Responsive WordPress Theme – ThemeForest

Lucky Times – Responsive WordPress Theme – ThemeForest
WP Artisan Responsive Portfolio Theme

WP Artisan Responsive Portfolio Theme
Instyle – Responsive Portfolio Theme – ThemeForest