10 Free Online Photo Editor Websites You Must Try
Have you ever been to a situation where you need to modify a picture and you're not at your place with much loved photo editing software? The situation could be anything which led us to search for some free online photo editor websites. The online photo editing space has grown very quickly in the past years, providing great free and subscription-based options for users of all levels.
If you are looking for a free online photo editor with similar features to your desktop application, then you will find this post very useful. Today we bring you 10 free online photo editor websites. Take a look at this list of ten photo editors you must try. These free photo editing websites let you import images from your social networks, touch up photos, promote your work, and more. We're not going to recommend to you which photo editor to use because we, designers, are picky and like to try things on our own. Enjoy!
1. Adobe Photoshop Express
With Adobe® Photoshop® Express online apps, it takes no time at all to make good photos look great and great photos look amazing – and then show them off via web galleries and favorite sharing sites. Plus, you can keep your photos well-organized and safely backed up. Visit Adobe Photoshop Express
2. Aviary
Aviary is a complete suite of 5 tools which includes Photo Editor, Effects Editor, Image Markup, Swatch Editor and Vector Editor. Visit Aviary
3. Pixlr
Pixlr have two applications in their suite, one is Pixlr Editor and the other is Pixlr Express. As they are built in Flash so you need to have a Flash plug in to get it to work. Visit Pixlr
4. Picnik
Picnik makes your photos fabulous with easy to use yet powerful photo editing tools. Tweak to your heart's content, then get creative with oodles of effects, fonts, shapes, and frames. It's fast, easy, and fun. Visit Picnik
5. Photovisi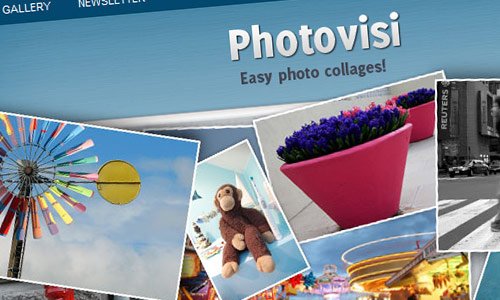 Photovisi is a free and easy to use online photo collage maker. Select one of the many designs, add your photos and then customize by dragging items around. After the collage is finished, it's available for download and print! Want to try it out? Visit Photovisi
6. PicArtia
PicArtia helps you to create your photo mosaic online for free. It is popular for being fast, easy and free! Photo Mosaics are great gifts for friends, family members and even yours. Most of our users would print it in large size and use it as a poster for their office or room wall. Some users even use it in their blogs, websites or post it as an online gift to their friends on different occasions like school gatherings or birthdays. Visit PicArtia
7. FooFlexer
FotoFlexer is the world's most advanced online photo editor. It performs advanced effects previously only available to professionals using expensive software. FotoFlexer was founded by Arbor Labs, a team of graduate students and alumni from the Center for Entrepreneurship and Technology, University of California at Berkeley (and just one MIT/Stanford alum too). Visit FotoFlexer
8. Makeovr
Makeovr is a perfect free online photo editor for females. You can upload your photo and try true-to-life makeup, eye shadow, mascara, lipstick and hairstyles to complement your face shape. Visit Makeovr
9. Splashup
Splashup, formerly Fauxto, is a powerful photo editing tool and photo manager. With the features professionals use and novices want, it's easy to use, works in real-time and allows you to edit many images at once. Splashup runs in all browsers, integrates seamlessly with top photo-sharing sites, and even has its own file format so you can save your work in progress. Visit Splashup
10. BeFunky
BeFunky is a free online photo editor website where it simplifies photo editing and effects for everyday people. You can choose from constantly growing library of photo effects to turn your ordinary photos into extraordinary art with virtually no effort. with BeFunky, photo editing made smart. Fix your common photo problems like bad lighting, digital noise, fuzzy colors and details with one click. Give your digital creations a whole lot of character with BeFunky Goodies. Add speech bubbles, frames and more. Visit BeFunky