35 Totally New Free Fonts for your Designs
In typography, a font is traditionally defined as a quantity of sorts composing a complete character set of a single size and style of a particular typeface. For example, the complete set of all the characters for "9-point Bulmer" is called a font, and the "10-point Bulmer" would be another separate font, but part of the same font family, whereas "9-point Bulmer boldface" would be another font in a different font family of the same typeface. One individual font character might be referred to as a "piece of font" or a "piece of type".
Sometime designers find it a difficult to get the right font that will be perfect for a certain site. They may not like to use the traditional fonts and want to do experiments with the fonts. There are many smart, attractive and professional looking free fonts over the internet. It's difficult to go through each of them. To make your life easier, we selected 35 Totally New Free Fonts for your Designs. These new and free fonts could be used widely by the designers who like to do something new and creative. All these fonts are modern and have a very professional look.
1. Rex Free Font

Rex is a font family with three weights – light, bold and bold inline – that was designed to create unique titles on the fly. It's all caps font, but there is a difference between both – caps & small caps (see in the examples). Applicable for any type of graphic design – web, print, motion graphics etc and perfect for t-shirts and other items like posters, logos. Cyrillic version is included. Have fun!
Rex Free Font
2. EXO Free Font

Exo is geometric sans serif font family. Its design started almost two years ago as way to discover typography in a more advanced way. Exo is a very complete font family, it has 9 weights both in regular and true italic versions. Each font comes with a lot of opentype features such as small caps, ligatures, alternates, oldstyle figures, tabular figures, fractions, and more. Exo is a successful Kickstarter project. Now you can use this font for free.
EXO Free Font
3. ARVIL Font

Arvil is a strong, condensed display Sans Serif font. It has strong lines with rounded, soft terminals, to produce a strong, yet friendly letterform. Available in all caps with numerals, punctuation and also a wide range of symbols, Arvil is versatile and sure to deliver your next message with style.'
ARVIL Font
4. That's Font Folks!

This free font has been designed by Jayvee D. Enaguas and it has inspired in mid-30s to present font of Looney Tunes and Merrie Melodies ending screen.
That's Font Folks!
5. Bender Free Font

Bender is a an industrial inspired free font, a chunky face for display type in two weights: inline and solid.
Bender Free Font
6. The Kable Font

The Kabel free font is a new contemporary display typeface designed by Mathias Nosel. He started playing with Photoshop in 2002. Studied from 2007 to 2010 graphic & design in Munich and working until now at Serviceplan Munich. One of most successfully ad-agencies in Germany. In his free-time Mathias often working for fun projects like "The Kabel Font". This font is not useful for long texts. With this font you can design nice topics. Have fun!
The Kable Font
7. Bispo Free Font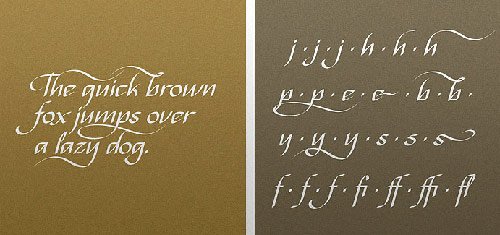 Bispo is a script typeface made inspiring on italic chancery calligraphy, with a flat nib pen and a module of 10 pen widths. I decided to make this typeface after months studying calligraphy, to allow everyone be able to create pieces with a charm of calligraphy, taking advantage of the Opentype features. There are also alternates and swashes glyphs to use as you want.
Bispo Free Font
8. Free Font: FV Almelo

This is an all caps condensed rounded free font. The capitals in this font are the standard glyphs, when a character has an alternative you'll find it using lower case
Free font: FV Almelo
9. Hagin Free Font

Hagin is a new serif free font from Fontfabric constructed with strong geometric forms in "old school" style. Applicable for any type of graphic design – web, print, motion graphics etc and perfect for t-shirts and other items like posters, logos. Have fun!
Hagin Free Font
10. Villa Didot – A Christmas Present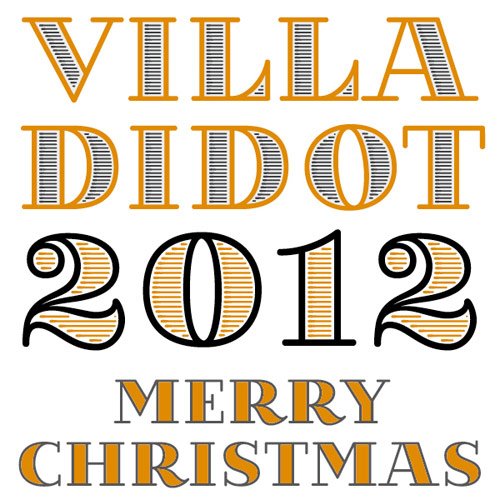 The Idea behind the Villa Didot Typeface was to create a group of typefaces, that where used on the posters of the club villaWuller. All where handdrawn and now i want to create a complete set. Artill (Lukas Bischoff) launched his christmas calender for the 5th time and i gave him as a present this small typeface. It's not complete and i will release a new version of it next year.
Villa Didot – A Christmas Present
11. Haymaker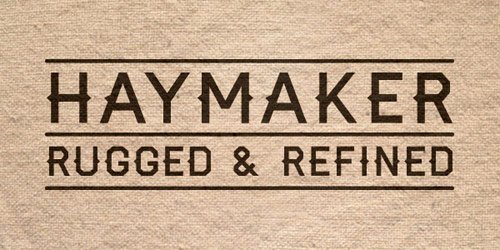 A display typeface that's both rugged and refined. Inspired by the workmanship, lettering, and baseball jerseys of the 1930's and 40's
Haymaker
12. Noticia Text
13. Lorena Free Font
14. Static Free Font

Static is contemporary free font constructed with strong geometric forms in monospaced style. Applicable for any type of graphic design – web, print, motion graphics etc and perfect for t-shirts and other items like posters, logos.
Static Free Font
15. Origram Free Font

Inspired in Origamis and Tangrams, the basic shape is an octagon. Gemotric, regular, its a display font! Feel free to use it.
Origram Free Font
16. Meander Font

Meander is a free face creating a freestyle winding and intertwining style. Curly, twirly, swirly font for an illustrative effect. Made by doodling with felt pens, this font is best used at larger sizes.
Meander Font
17. Sullivan Free Font

Not your traditional modular typeface. Sullivan is a bold display face that comes in three variations. Each can be used effectively on their own or layered for a uniquely modern, industrial effect. Originally inspired by the letter "S" design by Scott Allen Hill of Foundry Collective.
Sullivan Free Font
18. Archive Free Font

Archive is contemporary free font constructed with strong geometric forms. Applicable for any type of graphic design – web, print, motion graphics etc and perfect for t-shirts and other items like posters, logos.
Archive Free Font
19. Cubano Font

A confienet, yet friendly display Sans Serif. Cubano's personality is defined by its rounded corners, wide strokes, and semi-condensed letterforms. Featuring 167 glyphs, Cubano is available in all caps with numerals, punctuation, symbols and most accent marks. And with webfonts included, you can easily solidify your next site with Cubano!
Cubano Font
20. Bemio Free Font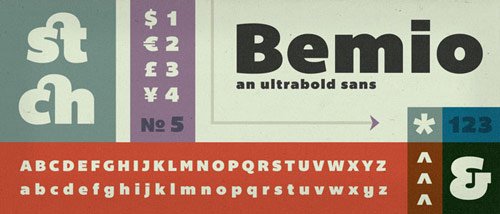 Bemio is an ultrabold sans with an extensive character set. It bridges the gap between old signage and craftsmanship with modern forms and simplicity. With more than 1000 glyphs, and full Language Support, Bemio is versatile and robust.
Bemio Free Font
21. Atreyu Free Font

Atreyu is a contemporary textura blackletter inspired from Gothic Illuminated Manuscripts of 14th century Germany. I've always had an affinity for blackletter since I grew up drawing calligraphy. And lets face it nothing can say Heavy Metal to Happy Holidays like a good old fashion blackletter.
Atreyu Free Font
22. Carton Free Font

A strong yet sensitive slab-serif inspired by letterpress.
Carton Free Font
23. Alegreya Font

Alegreya is a typeface originally intended for literature. Among its crowning characteristics, it conveys a dynamic and varied rhythm which facilitates the reading of long texts. Also, it provides freshness to the page while referring to the calligraphic letter, not as a literal interpretation, but rather in a contemporary typographic language.
Alegreya Font
24. Blanch Free Font

Blanch is a display face, designed for the 'Fruita Blanch' brand, a family-run company. A traditional font with a contemporary feel, The Blanch typeface family is comprised of 6 weights; 3 condensed weights and 3 caps weights.
Blanch Free Font
25. Poly – Free Font for Free Peoples

Poly is a medium contrast serif font. With short ascenders and a very high x-height, Poly is efficient in small sizes. Thanks to its careful balance between the x-height and glyph widths, it allows more economy and legibility than standard web serifs, even in small sizes. The aglutinative language for which it was designed contains very long words. The goal was to develop a typeface that would tolerate cramped tracking and that would increase the number of letters on a single line. Poly is a Unicode typeface family that supports Open Type features and languages that use the Latin script and its variants.
Poly – Free Font for Free Peoples
26. Onramp Free Font

A Bold addition to any project, this ultra readable sans serif radiates 'badass'. Font includes an extensive set of accent characters, and symbols not found in most faces.
Onramp Free Font
27. Lavanderia Free Font

Based on lettering found on Laundromat windows of San Francisco's Mission District, Lavanderia features numerous opentype features and three weights.
Lavanderia Free Font
28. Saturn V Font

A heavy-duty, lowercase slab-serif inspired by the monumental Saturn V rocket that carried men from the earth to the moon.
Saturn V Font
29. Alexis Free Font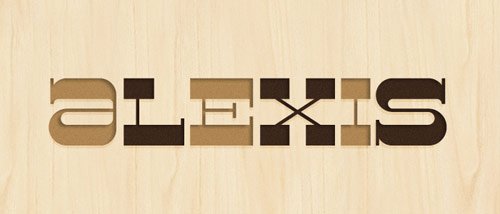 A mid-century modern inspired typeface, Alexis is a reverse contrast slab serif with a lot of sass.
Alexis Free Font
30. Franchise Font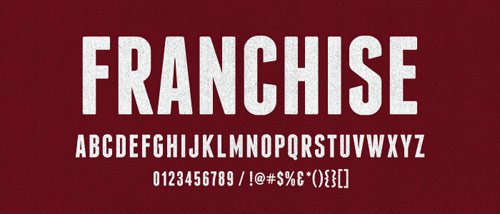 A powerful new display typeface meant to communicate your message quickly and with power. The characters were meticulously drawn to achieve a unifomity without compromising style.
Franchise Font
31. Ribbon Free Font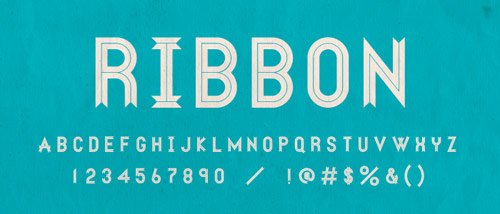 First appearing as a Numeral Set, Ribbon is now a full display face, including Opentype features for an alternate alphabet.
Ribbon Free Font
32. Homestead Free Font

Inspired by our desire and need to explore. Always searching for the place to call home.
Homestead Free Font
33. Ranger Free Font

Saddle up! This weighty italic display face comes custom fit with the spurs.
Ranger Free Font
34. Vevey Font

Vevey is a dreamy, refined sans serif inspired by a vintage travel poster found in the Swiss Riviera.
Vevey Font
35. Mensch Free Font

A condensed uppercase typeface with regular, thin, inline, and bold weights.
Mensch Free Font