13 Best Free Website Builders you Must Try Today
Today we will be listing some very best free website builders and tools to create your free website. These free website builders can be very useful for beginners who do not have technical knowledge but have interest in web design. To use these web applications you do not need any technical knowledge or don't to be a designer or developer.
In this post we showcased 13 best free website builders you must try today. With these online tools you can create your own free website that looks and function the way you want. Some of them are not very well-known, but they are worth checking out in respect to their features and functionlity. Using them you can create different types of websites.
Enjoy creating your absolutely free website now! You are most welcome if you want to share more useful website building tools that our readers may like.
If you like this article, you might be interested in other articles on Create Wedding Website for Free and Top 10 Image Hosting and Photo Sharing Websites.
Best Free Website Builders
1. Google Sites
Google Sites is a free and easy way to create and share webpages. Google Sites is the easiest way to make information accessible to people who need quick, up-to-date access. People can work together on a Site. Creating a site together is as easy as editing a document, and you always control who has access, whether it's just yourself, your team, or
your whole organization.
2. Wix
Wix is a best free website builder. You can create stunning free website with Wix. Customize with Wix' free website builder, no coding skills needed. Choose a design, begin customizing and be online today! They feature a website everyday made with Wix, so it's possible you get listed there if you create free website from Wix.com
3. Webs
Make a free professional looking website today with Webs. With their easy and free website builder, you can put your business group or personal website online at no cost.
4. Yola
Yola is a free website builder and you can create a professional free website in mintues. Yola provides everything your business needs to grow online. Start for free. Yola offer free hosting and a free website address. Get your business on Google, Yahoo & Bing today.
5. doTemplate
doTemplate is a catalog of free web templates you can easily customize before download. It's a free online tool where you can make professional website from templates. Have a try and see how quickly you can create your own web design.
6. Edicy
Edicy is a super simple tool for building websites. Just sign up and your site will be online in minutes. You can start adding pictures, texts, forms, videos or whatever else to your site right away. Edicy is mostly used by small businesses, startups, non-profits and freelancers alike. It's incredibly easy to use, desktop & mobile optimized, seo friendly and support building multilingual websites.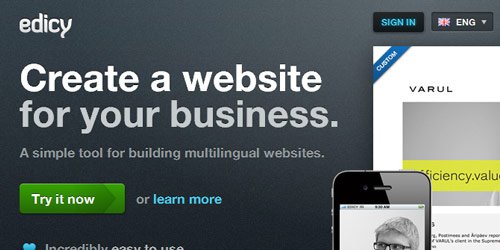 7. Webnode
You can make and own your website for free for unlimited time. Make a website at Webnode in a matter of minutes!
8. Moonfruit
Moonfruit offers a free website and online shop builder that allows you to 'publish once, be everywhere' and have total design control of your pages, blog posts and products with no ads and no catches. It's so easy, you can be up and running in 10 minutes. Premium features for your free website are also available with our website builder and include domain names, google adwords vouchers and more.
9. Weebly
Weebly is a free website builder and easiest way to create a website. Named one of TIME's 50 Best Websites, Weebly has an easy, drag & drop interface to create your own website. It's free, powerful, and professional.
10. Devhub
Create simple and free small business websites. With DevHub, building your business website is easy, fun, and rewarding.
11. SnapPages
Building a website can be an overwhelming experience. SnapPages is the easiest way to create your own website online. With simple drag and drop tools you can have your new website up and running in no time. Should give a try this tool if you need a simple but professional quality website.
12. Webstarts
Create free website today with Webstarts. Easy drag and drop interface. No programming skills needed. When you create a free website, it includes free web hosting and a free web address.
13. 350pages
Create a free website easily and quickly. 350pages website builder has customizable professionally designed templates and customizable graphics, photo editor and photo galleries with a slideshow. Drag and drop objects anywhere on the page. Includes free web hosting.