Top 20 Adobe After Effects Tutorials
Adobe After Effects is a digital motion graphics and compositing software published by Adobe Systems, used in film and video post-production. Adobe After Effects is primarily used for creating motion graphics and visual effects. After effects allows users to animate, alter and composite media in 2D and 3D space with various built-in tools and third party plug-ins, as well as individual attention to variables like parallax and user-adjustable angle of observation.
With Adobe After Effects it is possible to create so great looking visual effects as we seen in movies. You can also use it to create image slide shows, transition effects for websites and some small videos.
Here is 20 Most Top Adobe After Effects Tutorials you need to learn. Most of these tutorials are for intermediate users but some of them are for beginners and advance users.
If you like this article, you might be interested in other article on
In this tutorial Mathias shows that corner pin tracking can do much more than just replacing some pictures on a wall. We are going to compose a wound on a moving head and use the Mocha tracker in combination with his script MochaImport.
In this tutorial I will show you all how to make turn a plain dolly shot into a dynamic room with light rays and a sky replacement.
This tutorial will allow you to develop a deeper understanding about mattes, and how they can be used to apply texture and transparency to your layers in After Effects, by putting together a five-second television bumper in Adobe After Effects.
In this tutorial you'll learn how to create a dynamic disappearing effect from a moving camera shot. Our camera will pan with the actor as he runs, jumps, disappears, and reappears.
In this two day tutorial series, Michal will show you how to create a realistic war movie shot using only one actor and a camera man.
In this tutorial, we will learn some of the cool new features introduced in Trapcode Particular v2.0. Inspiration for this tutorial is from the logo reveal of the Digital Domain Animation Company.
In this tutorial you will learn how to control the scattering of light in the comp using adjustment light.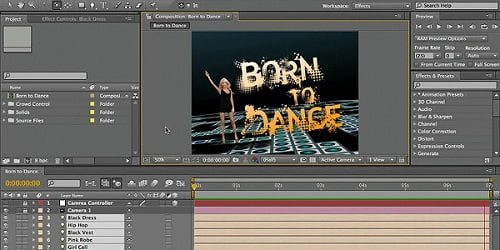 Shows how to create car light trails in After Effects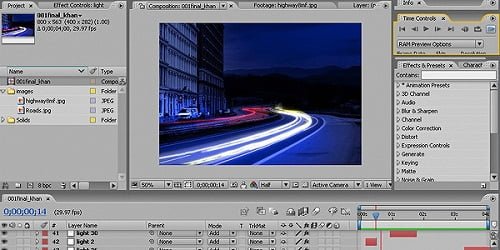 Learn to set different speed for your footage and also learn how to set a color correction.
Animated Handwriting in After Effects
Corey Barker demonstrates a technique for animating text using the stroke effect in After Effects.
Learn how to match your video to the geometry of an object by using a warp effect in After Effects
In this tutorial we will create an "awesome" 80's title opener. This is created entirely within after effects with no external effects! We look at animating text with per-character 3D, the Radio Waves effect, creating interesting evolving backgrounds and advanced color correction techniques.
Learn how to create photo montages easily and quickly using few tricks and techniques in After Effects.
In this tutorial you will explain how to make the "Legend of the Guardians" flying logo style.
In this tutorial you'll learn how to create animated typography synchronized with musical events (lyrics). You'll learn how to fit your typography to a rhythm, add dynamic animations and use the camera and motion blur to create a high-end final effect.
Learn how to simulate graffiti writing on a wall in 3D and add some paint splatter elements using After Effects.
In this tutorial Naim Alwan ventures outside of After Effects for a little bit of 3D Matchmoving to create this stunning Urban Jungle effect where vector graphics are perfectly tracked to some city footage.
Learn how to create an interesint ink bleeding effect.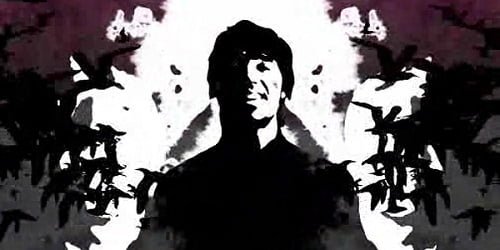 Learn how to create a can which dances following music beats.
Amazing soray paint effect.