20 Top HTML5 Animation Tools
HTML stands for hypertext markup language and this language has been the base for creating amazing websites for a long time. Owing to the powerful use of html a new version HTML5 has been released and since its release it has enabled the designers in producing wonderful and magnificent works of art in the shape of state of the art websites. HTML5 has also made incorporating and coding animations in websites extremely easy. By this amazing feature of HMTL5 t is now possible to create visually stunning websites with minimum efforts. Another enhancement in HTML5 is that it is supported by all the popular and modern browsers. There are many other awesome features in HTML5 but today we'll focus on HTML5 animations. Animations admittedly make any website look more cool and interesting and also beautiful but creating the perfect animation is a difficult task that requires time, effort and expert skills in using HTML5. But fear not as there are many amazing designers who have released HTML5 animation tools for all the designers to use. Creating fantastic animations with these tools is very easy and the result is awesome and ultimately makes any website look more alive and attractive.
To save all the designers a lot of trouble of searching and testing we have handpicked some of the most excellent and efficient HTML5 animation tools. These tools will make your work much easier for you and will liven up your website in no time at all.
Animatron is a simple and powerful online tool that allows you to create stunning HTML5 animations and interactive content.
Mixeek is a free software tool for designing and executing web animations and interactive animated web applications.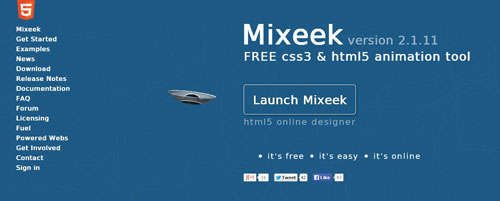 Purple Motion is the expert in digital storytelling with a toolset to quickly create truly unique native apps and websites without coding.
Introducing Hippo Animator, professional HTML animation software designed to replace web plugins like Adobe Flash, Silverlight and Java. Works in desktop web browsers, tablets, mobile phones and is backwards compatible with old web browsers. Export HTML5, HTML4, video, GIF and images.
Online Free Banner Maker. JavaScript Animation Maker. Slideshows, Banners, Sliders, Presentations, Animations.
Edge Animate lets web designers create interactive HTML animations for web, digital publishing, rich media advertising and more, reaching both desktop and mobile with ease.
Create interactive Web content using Flash and HTML5 – HTML5 animation tool.
Sencha Space is an advanced platform for securely deploying mobile apps and delivering a consistent, elegant, mobile user experience to end-users. Users can launch any mobile web app, or HTML5 app in a secure, managed environment.
Modernizr is a JavaScript library that detects HTML5 and CSS3 features in the user's browser.
GSAP is a suite of tools for scripted, high-performance HTML5 animations that work in all major browsers. No other library delivers such advanced.
Tumult Hype is the HTML5 creation app for Mac OS X. Animations and interactive content made with Tumult Hype work on desktops, smartphones and iPads.
NodeFire Responsive Animator: Create HTML5 effects such as banners, slideshows, buttons, drop down menus, complex layouts, 3D effects, and more!
KineticJS is an HTML5 Canvas JavaScript framework that extends the 2d context by enabling canvas interactivity for desktop and mobile applications.
Simple, clean and engaging HTML5 based JavaScript charts. Chart.js is an easy way to include animated, interactive graphs on your website for free.
Google Web Designer is a free, professional-grade HTML5 authoring tool. Build interactive, animated HTML5 creative, no coding necessary.
A simple but powerful tweening / animation library for Javascript. Part of the CreateJS suite of libraries.
HTML5 Slideshow Maker is a user-friendly photo slideshow creator. It can create a slideshow with gorgeous HTML5 templates. The HTMl5 slideshows support all browsers, iPhone, iPad, Android devices compatible.
Hope you liked these HTML5 animation tools. If you enjoyed this article, you might also like Web Analytics Tools, Tools for Sending Large Files and Online Website Creating Tools.