20 Best and Useful jQuery Lightbox Plugins
jQuery plugins have been used by the designers for a long time and almost all the website designers use different jQuery plugins in their websites now to make them, appear more interesting and engaging. No matter what a website is about, no matter what services or products it offers it definitely needs images to show to the people a sort of demonstration of the offered products/ services. What better way to display such images than using jQuery plugins. Today's article will focused on jQuery lightbox plugins to be more specific. Such plugins allows users to click on the image to zoom it, and these plugins also provide left and right buttons to traverse through the images in the shown directions and to close the zoomed in view a close or X button is also given. jQuery light box plugins support images as well as videos. So whatever there is a designer might want to share with his/ her viewers he/she can easily do so using the amazing jQuery lightbox plugins. All designers can be user to find awesome jQuery lightbox plugins online but it is a hard feat to get a plugin that suits all the purposes of the designers perfectly. Some of the plugins are free and some cost a little and many are old and some are newly released.
Today we have handpicked collection comprising of the best and useful jQuery lightbox plugins to save your time and efforts. All these plugins are amazing to look at and will assuredly give the users an extremely interesting and memorable experience.
If you like these jQuery plugins, you might also like;
jQuery Lightbox Plugins
jQuery lightGallery is a lightweight jQuery lightbox gallery for displaying image and video gallery.
Visual LightBox is a free wizard app that helps you easily generate popup image galleries with a terrific lightbox overlay effect, in a few clicks without writing a single line of code.
A one-stop-shop jQuery plugin for scrolling/swiping through all different kinds of content. On a desktop, tablet or smartphone, inside a HTML element or as a lightbox popup.
A lightweight customizable lightbox plugin for jQuery.
There are a tonne of jQuery & WordPress lightbox plugins in the world but none of them are as simple to set up and use as the Nivo Lightbox while still offering the flexibility and accessibility available with the Nivo Lightbox.
Just another responsive jQuery lightbox plugin, suitable for images, inline contents, iFrames, Google Maps, Vimeo and YouTube videos.
Sleek, smooth, powerful, and revolutionary jQuery lightbox plugin for creative and ambitious web designers and developers.
Swipebox is a jQuery "lightbox" plugin for desktop, mobile and tablet.
Light and responsive lightbox script with focus on performance.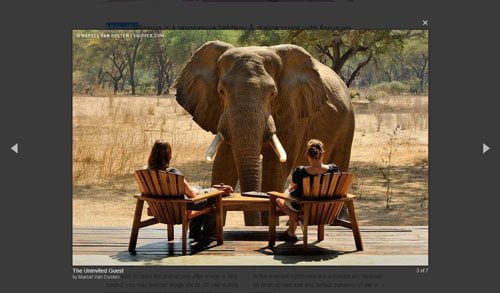 A free Responsive Lightbox jQuery Plugin that is extremely easy to implement and doesn't require any additional stylesheets, scripts or libraries.
ChillBox is a simple, unobtrusive script used to overlay images on top of the current page.
Lightview allows you to easily create the most beautiful overlay windows using the jQuery Javascript library.
TopUp is an easy to use Javascript library for unobtrusively displaying images and webpages in a Web 2.0 approach of popups.
Rebox is a tiny jQuery/Zepto plugin which enables you to display any Html elements in a responsive, mobile-friendly lightbox.
Matchbox is a simple jQuery plugin that makes it easy to display a gallery of images in a full-page & responsive lightbox with navigation and image auto re-center support.
poptrox is another simple yet fully customizable jQuery lightbox plugin for displaying html content (image, youtube/vimeo video, ajax content, iframe, URL, …) in a responsive popup window.
Boxer is a Quick & Simple LightBox Plugin with jQuery that allows you to display images, inline-content or iFramed URLs in a lightbox-style modal.