Stunning Examples of Nature Photography
Nature photography refers to a wide range of photography taken outdoors and devoted to displaying natural elements such as landscapes, wildlife, plants, and close-ups of natural scenes and textures. Nature photography tends to put a stronger emphasis on the aesthetic value of the photo than other photography genres, such as photojournalism and documentary photography.
Nature photographs are published in scientific, travel and cultural magazines such as National Geographic Magazine, National Wildlife Magazine and Audubon Magazine or other more specific magazines such as Outdoor Photographer and Nature's Best Photography.
If nature photography is anything, it is inspirational. Through the eyes of a photographer nature really comes alive. Nature photography tends to put a more importance on the aesthetic value of the image than other types of photography.
Nature Pictures
In this post we will highlight most stunning shots of nature photography by amazing photographer Carlo Olegario. Born in Makati Philippines, now residing in Sydney Australia. He has always had a passion for nature and scenery, in turn leading him to the path of photography. He's also a big fan of creative and artistic photography. Carlo will soon want to venture into lighting and studio photography, but for now he hopes his viewers enjoy and feast on his collection of captured moments preserved in a time capsule of his creation. You can visit his Flickr photostream here.
If you like this article, you might be interested in other articles on Pictures of Trees, Northern Lights Pictures and Landscape Photography.
Pink
Magical morning. Nice looking set of green rocks, beautiful colors of sunset and a great sky.
Segregated
This photo was taken on August 4, 2012 using a Canon EOS 5D Mark II. Beautifully captured. Loving the colors in this picture.
Looking Back
Amazing example of nature photography. This shot was taken by photographer at sunrise in Long reef looking back on to the sundrenched rocks and headland.
Mixed Emotions
This photo was taken at Long Reef, facing south, the northern side had no clouds and was just so boring. Blue sky dissolving into colorful clouds looking awesome.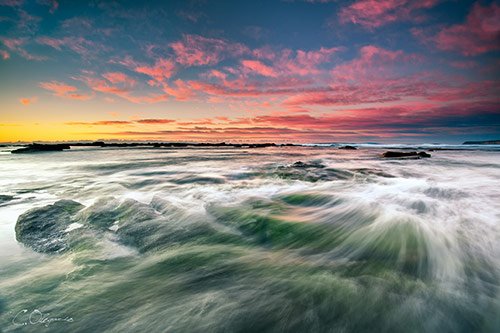 Hydro
Whale beach at Sydneys northern beaches. Great details and motion in this photograph.
Taking Time
Stunning colors and composition. Moving clouds and foreground rocks are looking awesome. The tones are perfect.
Capillaries
Another shot from long reef with focus, that sun was so strong when it came out and so hard to control, photographer had to wait for it to go behind the clouds. Beautiful reflections and textures on the wet sand.
Rocky Road
What a beautiful morning. Amazing long exposure shot. Seems nature at its best.
Only at
Stunning shot. The colors in the photo are simply marvelous.
Half Full
Lovely water flow and colors in this photograph. Looks nice with no clouds in the sky.
New Day
Fantastic shot with beautiful foreground. Sky with multiple colors. This photo was taken in June 2012 using a Canon EOS 5D Mark II.