35 Beautiful Hummingbird Pictures
Bird photography is a challenging type of nature photography. If you think birds photography is as easy as taking pictures with long lens, then you are wrong. Bird photography can be frustrating as well as rewarding. The flying creatures inspire our imagination. There are so many birds in this world. We love to showcase pictures of birds and today we will be covering hummingbird pictures in this article.
The hummingbird is one of the most interesting and beautiful birds. Hummingbirds are difficult to photograph being  that they are small, very quick, and can beat their wings around 53 times a second and fly in an acrobatic style matched by few other birds. Humming birds hover often, and also fly upside down and backwards. Their legs are extremely short, so they cannot walk or even hop with any efficiency.
Hummingbirds is a favorite creature of many. There are more than 325 species of hummingbirds in the world. This beautiful collection of hummingbird pictures highlights some of the most lovely and outstanding hummingbirds with their brilliant colors, unusual feathers and spectacular plumage adaptations.
Hummingbird Pictures
If you are looking for pictures of hummingbird to get inspiration or to decore your desktop background, have a look at these thirty five amazing pictures. These hummingbird pictures can be used in many ways. Go through each of the photograph and select the one that perfectly suites your taste.
If you like this pictures, you might be interested in other article on Cute and Adorable Puffin Pictures and Domestic Birds Photography.
1. Rufus Tailed Hummingbird
Hummingbird picture from Costa Rica. There are so many species of hummingirds in Costa Rica that it can become quite confusing but we believe it is correctly.
2. Looking Your Best
This beautiful hummingbird photo was taken near Vancouver, BC.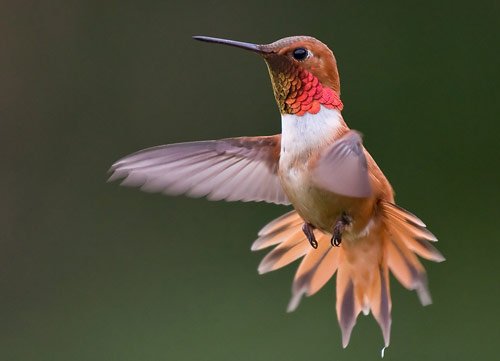 3. Hummingbird and Pink Lily
Fantastic color in this photo where hummingbird with green and blue spots sucking nectar from a pink lily.
4. Fast Food
White hummingbird sucking nectar from red fower. Perfect shutterspeed of this masterpiece.
5. Broad Tailed Hummingbird
Broad Tailed Hummingbird in an Aviary at Butterfly World in Coconut Creek, Florida.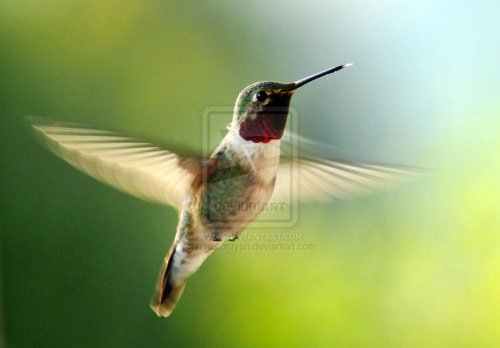 6. Hummingbird – Costa Rica
Beautiful black and purple hummingbird picture flying in Costa Rica.
7. Hummingbird
Amazing captured hummingbird photo with great angle. The colors are awesome.
8. Floating On Air
Violet Sabrewing hummingbird on cool background.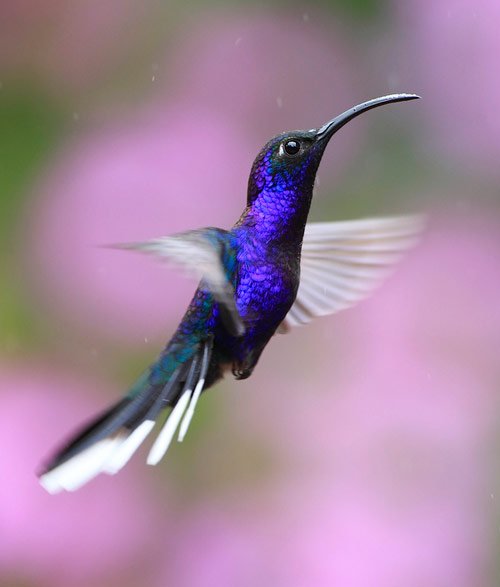 9. Cute Hummingbird
Cute hummingbird sucking nectar from a pink & white lily.
10. Little Hummingbird
Calliope Hummingbird on green background.
11. Hummingbird Feeder
Hummingbird feeder on a deck. They are so much fun to watch as they feu and fuss over "their" food source.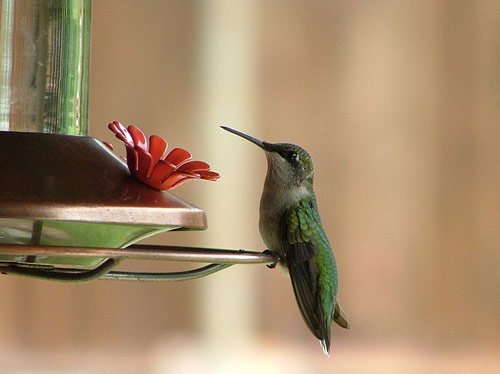 12. Violet-headed Hummingbird
Amazing picture of violet-headed hummingbird. Great sense of motion and movement.
13. Hummingbird Poem
With beautiful humming picture, you will find sweet poem as well. Worth reading!
14. Hummer of a Summer
A hummingbird extracts some nectar during a summer evening. Excellent focus in this photo.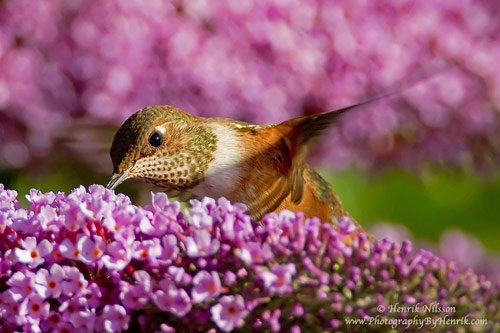 15. Almost There
Hummingbird about to reach it's destination towards flower.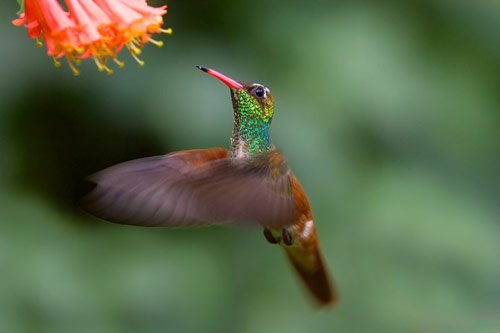 16. Hummingbird in Flight
A Hummingbird feeds at a sugar-water feeder outside of the Elk River Cafe, Elk River, Idaho
17. Delicate Touch
Sword-billed Hummingbird delicately approaching flower. Wonderful photo and perfectly timed.
18. Feeling Small
They are smaller than some of the other hummingbirds but very active and so beautiful. This image gives you an idea of how really small they are.
19. Rufous
Awesome timing and focus. Marvelous shot.
20. My Secret Place
Green violet eared hummingbird from Costa Rica. He found his own little secret place to rest.
21. Anna's Hummingbird
Light-colored hummingbird with a magenta color face. Absolutely amazing detail and clarity. Great backdrop.
22. Plain-bellied Hummingbird
Plain-bellied hummingbird sucking nectar from flower. Excellent timing and great photo.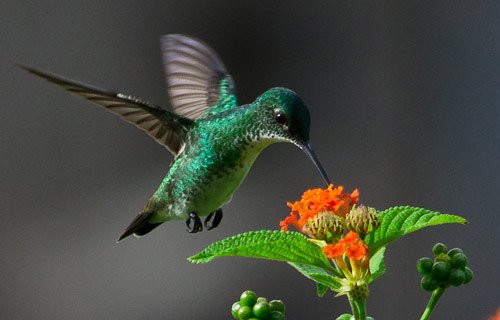 23. Small, Fast and Cute
Hummingbirds are something else. Every year, many of them migrate thousands of miles. Given their small size, it's must be some endeavor. This image was captured near a hummingbird feeder.
24. Hummingbird Flasher
Broadtail hummingbird photographed last year at the Hummingbird Aviary in the Arizona-Sonora Desert Museum near Tucson, Arizona.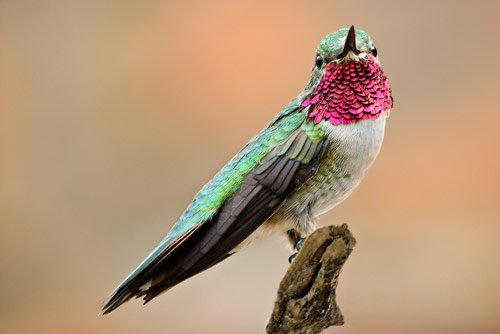 25. Violet-capped Woodnymph
Violet-capped Woodnymph (Thalurania glaucopis). Super details and color on such a small and lovely creature.
26. Green-backed Firecrown
This is the most austral hummingbird in the world, the Green-backed Firecrown (Sephanoides sephanoides). It inhabits the austral temperate forests from western patagonia, in both sides of the Andes. It feeds mainly on nectar, but occasionally it consumes small arthropods.
27. Hummer
This hummingbird pauses in mid air before heading back to a feeder.
28. Broad-tailed Hummingbird Hover
Hummingbirds are here in full force …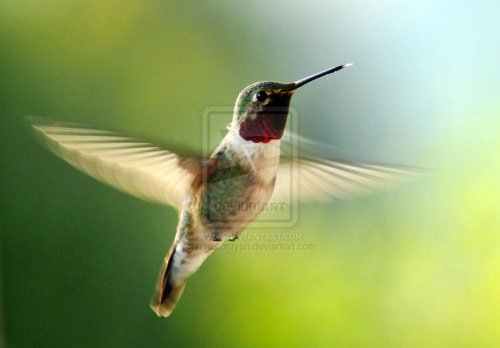 29. Nectar Extraction
Hummingbirds are absolutely amazing and a lot of fun to photograph. And the variety of the species is truly unbelievable.
30. Little Bright Eyes
There are so many species of hummingbirds that look quite similar. They are constantly moving from flower to flower all day long and their energy is truly amazing.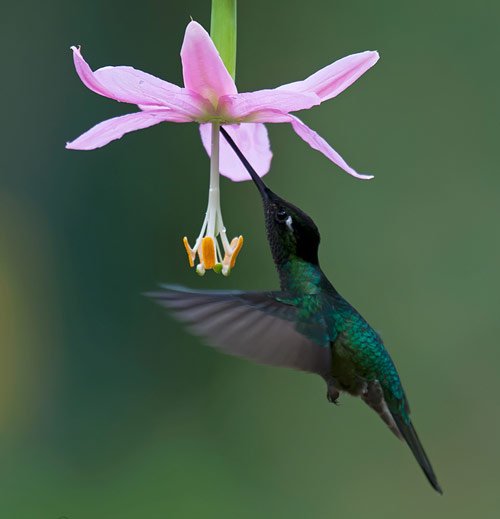 31. Blue Hummingbird
We love hummingbird pictures. Glad found this beautiful blue hummingbird in flight. Really great capture.
32. Hummingbird Heartbeat
This is amazing shot. It's hard to catch hummingbirds so closely.
33. Star
Sword-billed Hummingbird taken in Guango, Ecuador. Love this shot. Hummingbird looks like star. Love the metallic appearance of this little hummer.
34. Balance
Hummingbird sitting on stick. Amazing colors and motion blur.
35. Volcano Hummingbird in Flight
Caught this hummingbird picture perfectly with amazing wing position and eye angle.