20 Adorable Examples of Baby Photography
Baby photography and Newborn photography has taken a new life of its own in the photography industry. We recently noticed the increase of outfits and accessories created each day used in baby photography. From towels, to clothes, to baskets and slings, newborns are being photographed in a variety of creative positions.
Baby pictures are one the most fascinating pictures on earth. And we think they are the most photographed subject in the world. If you are into photography, you know taking pictures of babies is so wonderful and you enjoy every moment of it. Capturing adorable moments with that innocent smile requires luck and patience.
We have seen some parents who spend their whole life without taking any photo of their baby. A special moment is lost before you know it, so preserve those precious early years of your child's life. To give you some inspiration, here's a collection of cute and adorable baby pictures that will make you go awww and force you take your baby photos today. You should check out these baby photography tips if planning to take pictures of newborns.
Three Cow's
This cute baby is holding a big old cow and the one on the floor is new and makes a sound, yes a "muuuuu" sound.
Newly Born Twins
Adorable two little newly baby boys. The upper one is 5 minutes older.
Beautiful Baby Photo
Beautiful baby photography. She looks so comfortable! Beautiful light, tones, and posing.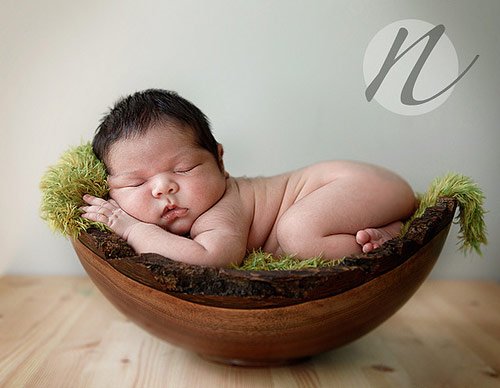 Picture of Twins
These twins look so comfortable together. Really amazing capture.
Day Dreamer Baby
The baby is sleepy and photographer took advantage of this took few shots from different angles.
First Autumn
Lovin this beautiful look of this cute baby. The first autumn of small Amelia.
Twins
Absolutely beautiful baby photography who are only two weeks in this photograph.
Bath-time
Amazing shot and awsome moment captured. Very cute and natural.
Asian Influence Newborn
A sweetheart only 4 days old. Great composition and creativity.
Baby on Red Sofa
Baby seems not comfortable on this red sofa but looking very cute.
What's Your Dream About?
This cute baby looks so happy and peaceful.
Brothers Photography
Very well captured. Both babies are looking so lovely.
Snoozer
Sweet newbon Louie as a little poser.
I Have Got Your Back
Lovely photo of twins. These poses been done before many times, probably because they look so sweet this way!
Baby Photography Inspiration
Photorapher Wendy took baby photography inspiration from Flickr and here's her first try on baby photography.
Dotty Double
Love these babies. Not only are they adorable and sweet, but have given photographer some of his most favorite baby photos ever.
Bubbles
Aww that's amazingly lovely. Gorgeos little guy with perfect pose.
Don't Take Me Pictures
So cute picture of this baby boy. With 10 days old he has a strong personality.
Baby Photo
Excellent shot and moment. Lovely baby portrait having leaf hand thumb in her mouth. So natural and cute expressions.