Breathtaking Examples of Aerial Photography
Aerial photography is a technique of taking photography from the sky or air. In aerial photography, anything on the ground is taken as a subject and shot without using any kind of Zoom or zoom lenses and you will experience the wideness of nature. From bodies of water to landscapes mixing with different structures. It is also called as Bird Eye photography.
Aerial Photography is really enjoying. Taking pictures from above, seeing the beautiful view down below the camera. There are a number of ways to take aerial photographs like using Air balloons, Remote sensing devices, Radio Controlled Planes/Helicopters, parachutes and Kites.
Taking stunning Aerial Photos is an art in its own. It was first practiced in the 1800's by photographers in balloons. The camera in Aerial photography may be hand held or mounted, and photographs may be taken by a photographer, triggered remotely, or triggered automatically.
Tip: When shooting aerial photography, stay pretty low, usually at about 1,000 feet (300 meters) above the ground. High equals hazy in aerial photography.
Aerial Photography
Now let's have a look at breathtaking aerial photos taken by various photographers. All images are linked to the proper sources. Clicking on the images will take you to larger version and see more about the photographers. You are welcome to share more aerial photography resources which our readers may like.
Eiffel Line
What a choice for taking this aerial photo. Very well captured and great idea too. Picture taken in Paris
Giraffee Caravan
Beautiful african wildlife photography example by Matt Wade. One of the best photos we have seen. This picture was taken in Tanzania.
A Place to Think
Wonderful texture and composition. Love the lines of corn field around the little house. Good example of aerial minimal pictures.
Leap of Faith
Standing on the ledge at Willis Tower. It's not for the faint of heart. Awesome aerial shot!
Vineyard
Vineyard in winter. Amazing landscape photo taken by Kregon. Great work, love the minimalist composition.
Volcano in Iceland
It's very difficult to say where you are; but it's great; sublime composition and colors.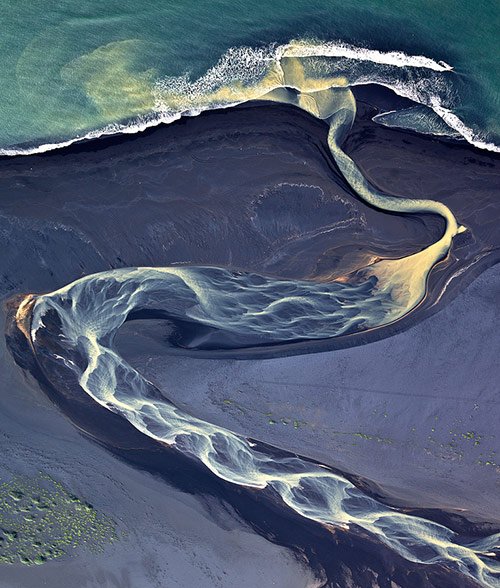 Hieroglyph
Glen Canyon. More than 1 million acres of incredibly diverse and beautiful land. Canyons and buttes, desert sands and dark blue waters invite you to discover a place that tells the story of nearly 650 million years of the earth's history. Most places here are reachable by air only.
Pattern
Aerial view of colorful houses in pattern.
Aerial of Volcano
Aerial of volcano on the Peninsula of Kamchatka, Russia.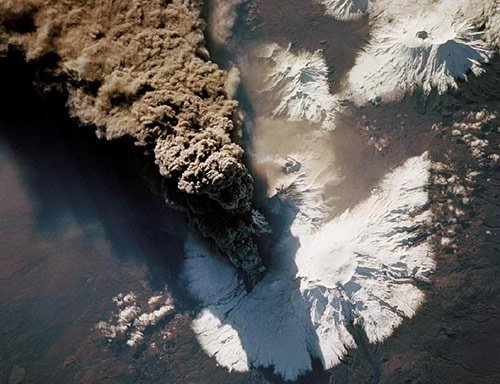 Aerial Photography
Wonderful picture of mountains. Not sure what place is this but it's awesome.
Veins of the City
Shot from Maybank Tower Singapore at Marina Bay
Sunset Over Cowtown
Wonerful aerial photography example. Amazing shot taken from the airplance window. This is five exposure variants taken from a single RAW turned into an HDR and then tonemapped.
Bora Bora Aerial, French Polynesia
Lacy breakers lap the coral reef that rings Bora-Bora, an ancient sunken volcano 165 miles [266 kilometers] northwest of Tahiti. With sugar white beaches edging its electric-blue lagoon, the island fits everyone's image of a South Seas Paradise.
Bora Bora Aerial, French Polynesia
Terraced Rice Field, China
Yunnan, China, is a beautiful place for shooting rice field terraces.
Melbourne's Secret Butterflies
Taken by a simple digital camera on a flight around town. There's two little butterflies in West Melbourne. You don't notice that till you're up there.
Melbourne's Secret Butterflies
Mount Roraima
Mount Roraima is the highest of the Pakaraima chain of tepui plateau in South America. Mount Roraima lies on the Guiana Shield in the southeastern corner of Venezuela's 30000 km2 Canaima National Park forming the highest peak of Guyana's Highland Range.
North Twin
North Twin Lake on a partly cloudy morning. Seems there is a sky in that hole.
Asiago Plateau, Northern Italy
A village emerges through the mist like a mystical island in the Asiago plateau in the Alps of northern Italy. The picture was taken by an amateur photographer.
Asiago Plateau, Northern Italy
Aerial Photography
Aerial photography by Cameron Davidson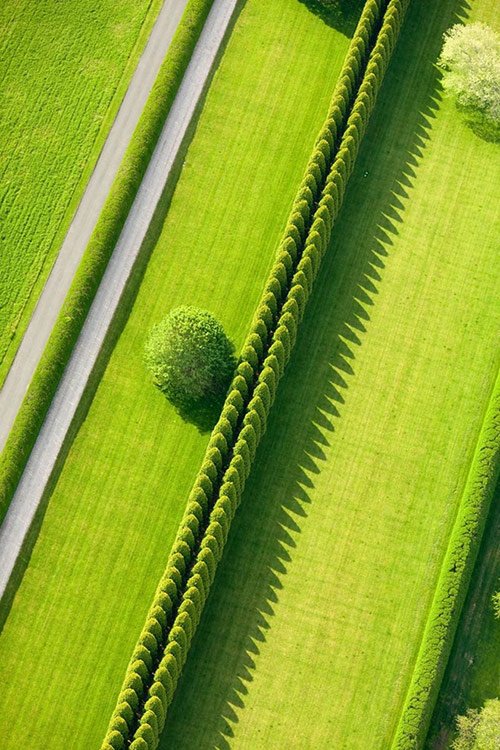 Top of the World
Going for that "space shuttle" look. Taken over the Rocky Mountains at the Alberta/British Columbia border.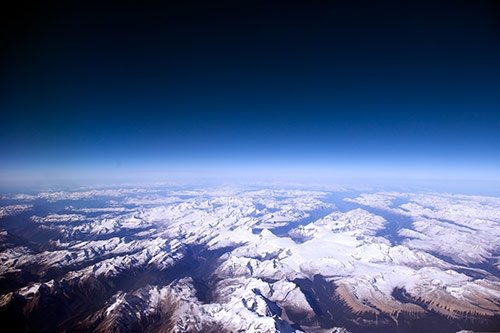 Veins
Excellent shot with so dramatical clouds.
Amazon River Brazil
Amazing aerial photography by Yann Arthus-Bertrand. Passionate about photography and the beauty of landscapes when observed from above in hot air balloons.
Aerial Photo by Yann Arthus Bertrand
Yann Arthus Bertrand is a professional and internationally recognized photographer. You've probably seen his amazing aerial photographs here or there but never knew they were his.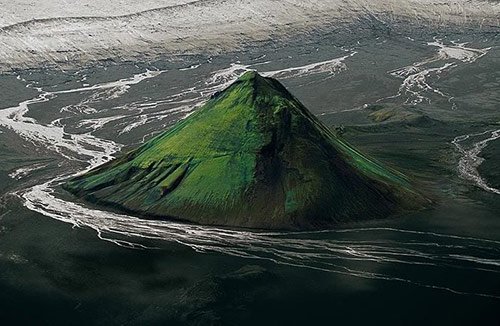 Aerial Photo by Yann Arthus Bertrand
Docks – Britannia Yacht Club
Docks. Pre- season at Britannia Yacht Club in Ottawa Ontario, Canada. This picture was taken from a camera rig suspended below a kite (Kite Aerial Photography – KAP).
Visitors in the Crop Circle at Andechs
Aerial view of the visitors in the crop circle in Andechs.
Visitors in the Crop Circle at Andechs
Red Vans
Red vans awaiting shipment, parked on disused aerodrome at Upper Heyford Oxfordshire, UK.
Regent Street, London
Looking down Regent Street to Piccadilly Circus and Soho.
\
Ten Thousand Hearts
At 5:15 p.m. on September 25, 2004, nearly 6,000 men, women, and children, all wearing red T-shirts, gathered in a field in the Arche de la Nature park near Le Mans to be photographed for a postcard.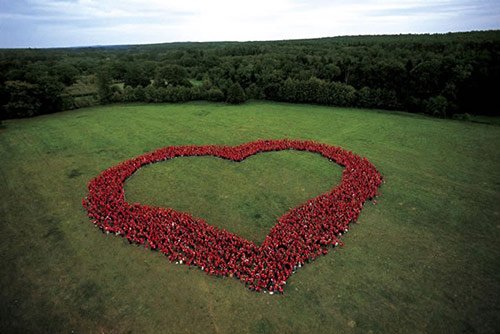 The Temple of the Holy Family
This is Barcelona city and you can see this view only from the air.
Magnificent Aerial Photography
Magnificent Aerial Photography by Yann Arthus Bertrand. Excellent shot.