Anatomy of Objects That Make You Say 'Wow'
We all know the inside electronics are made up of some chips and wires, but Mads Peitersen is showing us human-like anatomy of these gadgets through his illustrations that make you say "Wow".
Mads Peitersen, a Denmark based illustrator and concept artist has been creating a series of illustrations featuring the anatomy of technological objects. He draws a living organism living in these devices of everyday life. These paintings feature popular electronic objects such as the PlayStation, iPhone, and a game controller, sliced up to expose human-like body parts such as bones and livers. Checkout more work of artist here on deviantART.
Playstation 3 Anatomy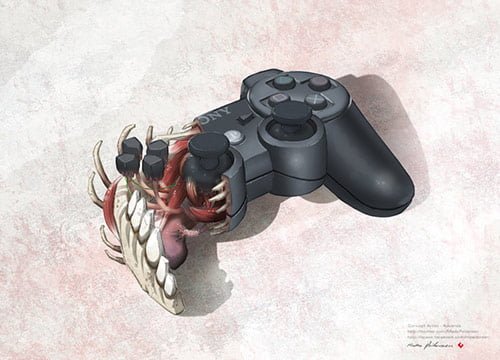 No Games or Consoles was harmed during painting.
PS3 Anatomies
Commission for the Official Playstation Magazine UK. They asked artist to create an Art-piece of the entire PS3 rendered in similar style as his other Anatomy art.
Control Life
This is really how the Xbox360 Controller works. No Games or Consoles was harmed during painting.
Capture Everything
The Anatomy of The Canon 5D Mark II
Art Meats Technology
When art meets technology…
Smartphones today are soo advanced and good they almost behave alive. And becomes an extension of your body
No Phones was harmed during painting
1210 Turntable Music
The 1210. The world's most popular DJ-turntable standard within turntables
Hot Toast Nightmare
It was created using a hollowed out coconut, 1 part grape fruit, 2 parts snake skin, the bones of a bog pig, 2 parts rot beer, axle crease and pepperoni.
Mads call this HotToastNightmare. Guess why?
Choose your Anatomy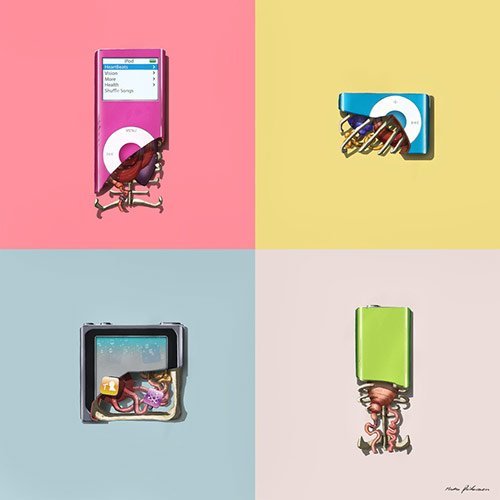 There is over 220 million iPods on the planet. Which one do you have?