Magnificent Character Illustrations by Tiago Hoisel
Tiago Hoisel is a very talented illustrator and a mad scientist reanimating cartoon characters into living beings, or perhaps he is capturing the souls of living beings and injecting them into cartoon molds. Either way he is certainly mad!
Today we are showcasing magnificent character illustrations by this great brazilian artist. Tiago's updated portfolio is full of amazing illustrations. He always creates very funny cartoons & illustrations which are always in bright colors and realistic at the same time. Its worth checking Tiago Hoisel website too.
If you like this article, you might be interested in other articles on Hyper Realistic Street Fighter Characters, Amazing Illustrations by Richard Roberts and Stunning Photo Manipulations.
Beach
He has done this illustration for Mundo Estranho magazine. This one was a bit easier to make, because he has shot a reference of the hand with the glass, and also found great ones over the web.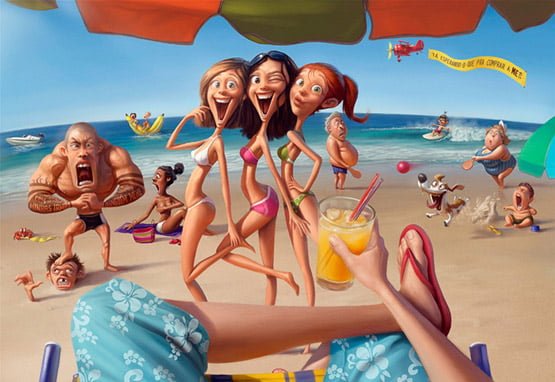 Bad Wolf
Illustration that he made for a campaign that didn't happen. Due to that angle, he tried to use the Sun & bounce light as key light for the scene, and the Sun worked like a backlight. He had help from Lucas Leibholz specially to draw those Little Red Riding Hood.
Meeting with girlfriend's family
This one was made for a Mundo Estranho magazine advertising campaign. It is a very complex scene, where he created a main center superior light, to make it tense and strengthen the illustration idea. However, because of having so many elements, he worked a soft area light to make the shadows less marked and leave the scene more clean.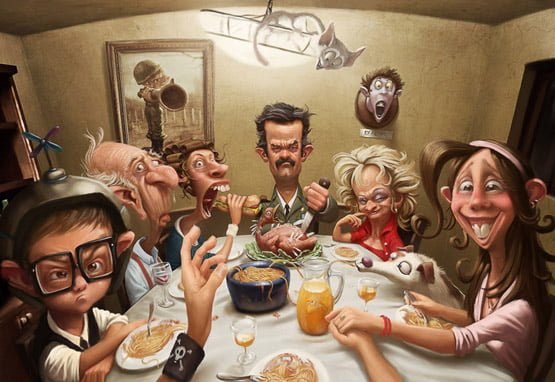 Davy Jones Character Illustration
This is a cartoon version of one of his favorites movie character, it's a personal work that he made just for a study. He painted all with just one brush standard and at the end he applied some paper textures to make a little dirty. Throughout the process he made some changes on the first draw, on the position of the legs and on the hands to make enrich the idea. Thank's to Pedro Conti (Peter Talk) for the tips.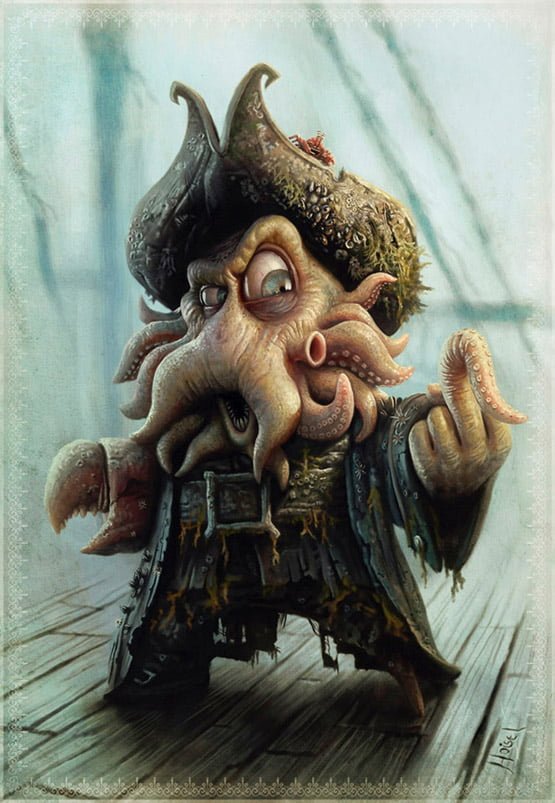 Wacky Science – Mad Scientist
This Illustration was made for a magazine cover called Mundo Estranho (weird world). In this kind of job it's limited by the layout impositions, because it's a magazine cover. It have to leave space for the stickers and report calls on the image and because of that he focus the details in certain places that would be more exposed and left the places that would have text on it. For example the table and the test tube. He drew and painted in Photoshop CS3 with a Intuos 3 tablet.
Baby Friendly Character
This lovable baby is his Zbrush modeling course final work at Melies 3D Cinema and animation school. He started the model from a sphere and after that he painted and made the render by the Zbrush itself. He used Photoshop for composition of the background and for some final details of painting, mostly at the eyes.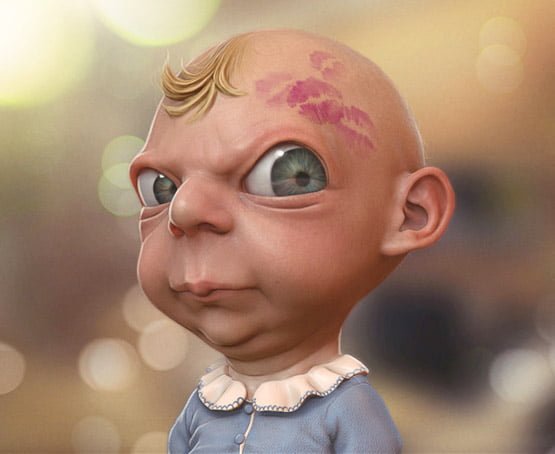 Dog Training School Illustrations
Illustration created for the ad agency CBGrey made for a dog training school. In this illustration he used some photos, textures of grass and asphalt and he made a matte painting on the mailman and bicycle.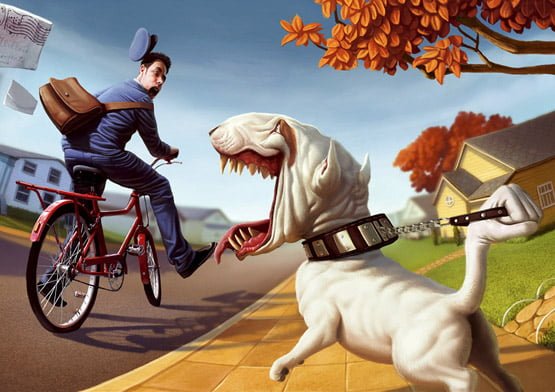 Axl Character
This illustration, among the other rooster below, was made for a campaign created by Leo Burnett Brazil. This project was pretty hard to finish mainly because of the pities, which were painted one by one. After having the concept approved, it took about 40 hours painting before it was finished.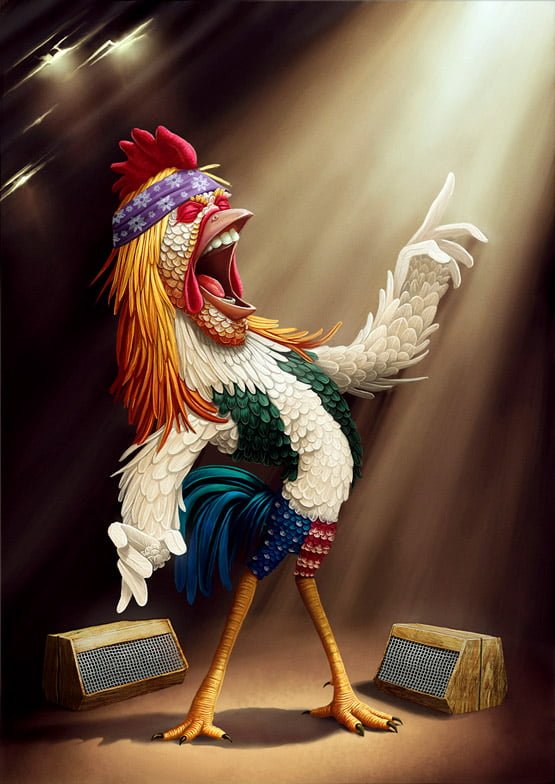 Pavarotti Character
One more illustration made for Leo Burnett Brazil. The big deal for this job was defining how much should the character be more rooster or human. In fact the client wanted it to be an odd hybrid, while preserving Pavarotti identifiable. Several studies were made before reaching this aspect. After that he spent about 40 hours painting the feathers one by one.
Bathroom
That's the second Illustration made for Beirut for the Ethical Treatment of Animals' (BETA). Had a lot of work with the details, specially with the magazines.
Bedroom – Shaking the Dust
That's the first of a series of illustrations for a campaign created by Leo Burnett in Lebanon for Beirut for the Ethical Treatment of Animals (BETA).
Had a lot of work because each poster was a new illustration. To make things faster he used a few textures from pictures for the door, the floor and the walls. He also used a paper texture for the posters too.
Felipe Massa
Caricature done for Playboy magazine.
AE Investments
Illustration made for a publicity campaign of Leo Burnett to divulgate the AE Investments portal. Inspired on a Salvador Dali piece. Actually, the connection of Dali's paint and this job are the shape and layout of the elements, not with the painting style. All done in Adobe Photoshop CS3 with exception of the rusted iron chain, that was made by a work matte, Mariano Steiner, in 3DS Max 9.
AE Investments 2
This is the second illustration of the campaign portal for the AE Investments. This time on the chessboard.
Generation Internet
Cartoon Character made for a humor contest. This painting has been made using practically only Photoshop's brush tool. Once ready, he made a few adjustments for color and contrast.
The hardest part was to find a way to reach a realistic result for the hair. To reach it, he made a background color and drew almost one by one. He also used a few layer effects to make it easier when applying texture on the clothing. It took him about 30 hours.
The Chief
This is a personal work. Sometimes he like to paint, to humanize the caricatures, so the animals look alike humans. To make this job he had many offices, chimpanzees and gorillas references. In this work he used two brushes, one for the main paint and other to paint the glow effect. Photoshop CS3 and Genius tablet.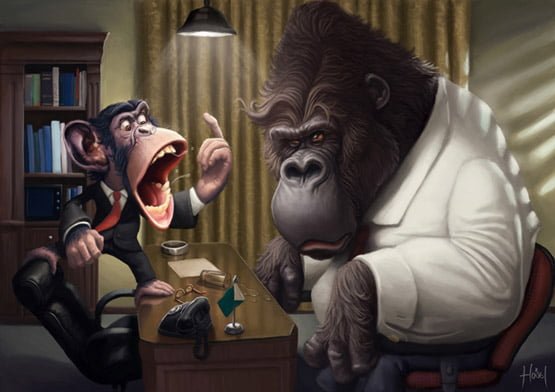 Hugh Jackman
In this work he used spiral lines to turn the caricature a little more childish, making a joke with the Wolverine look and his personality. He had a hard work to finish the hair and the skin texture. Took about 25 hours, from sketch to final paint. Again Photoshop CS3 + Genius tablet.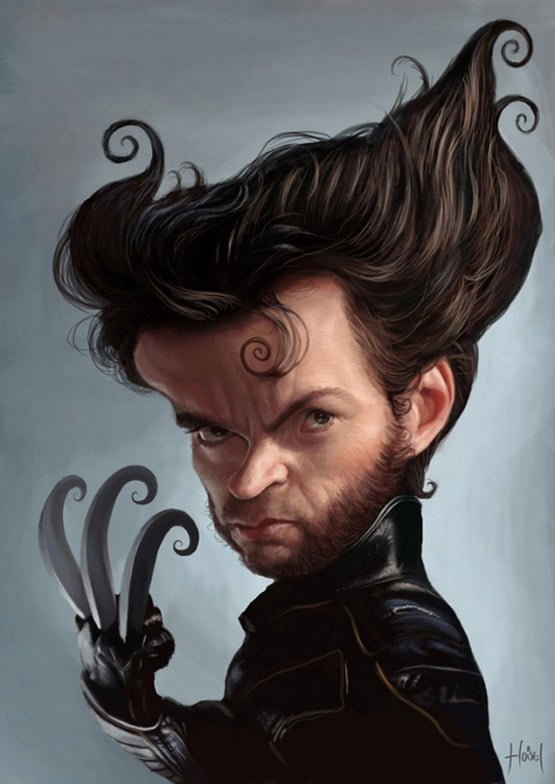 Clown
Personal work. This is one of those illustrations made without any specific purpose. He woke with an idea in his mind and painted it. Another one made in photoshop with just one brush sample.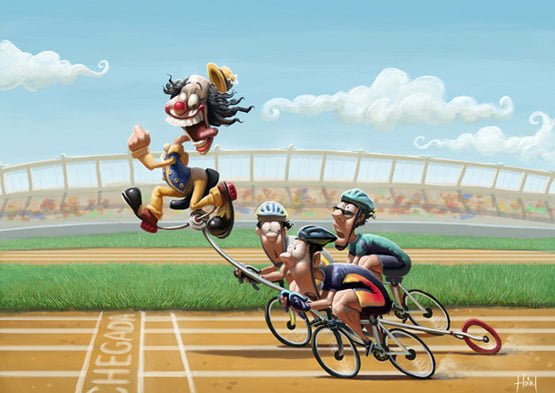 On the Beach
Personal Work. Illustration inspired by one  of his favorite beach, the Porto da Barra in Salvador.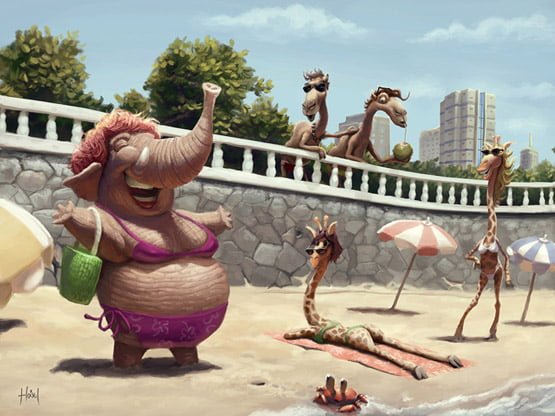 Friendship
Illustration made for the end restaurant's Great Wilderness.
The Flintstones
Version of another classic Hanna-Barbera, his favorite.
Sumo Character Illustration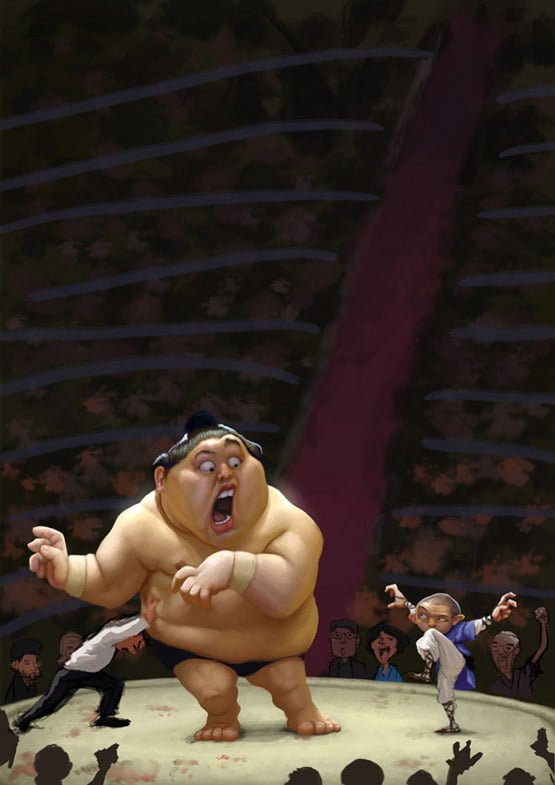 Kaka
He made this caricature of Kaka for the Salon of Humor Paraguaçu Paulista last year, but it was not selected.