Mind Blowing Sketches of Digital Artist Kerem Beyit
We are proud to showcase mind-blowing sketches of digital artist Kerem Beyit. Kerem Beyit was born in Ankara, Turkey, (1980) started drawing in his early childhood with the effect of comic books. In Gazi University, department of graphics he studied graphic design for four years.
Kerem Beyit didn't had any formal training for sketches, drawings or illustrations. He trained himself and his teachers were the great fantasy artists like Frazetta and Brom. He worked for various places doing sketches, graphic and illustration studies, book covers, local comics also magazines and books for children.
Kerem Beyit has been in the digital area for four years. He did lots of book covers. He's honoured by being awarded on CGSociety, CgChannel, Gfxartist, Cggallery , 3DTotal and CGArena. His works have been published in several magazines. His works have also been selected for inclusion in the Ballistic Publishing albums Expose and Exotique. Kerem Beyit is currently working as a freelance artist.
You might be interested in following related posts:
Alternative Saladin in Sketches
Aqrap in Sketches
Battle Sketch
Bones Sketch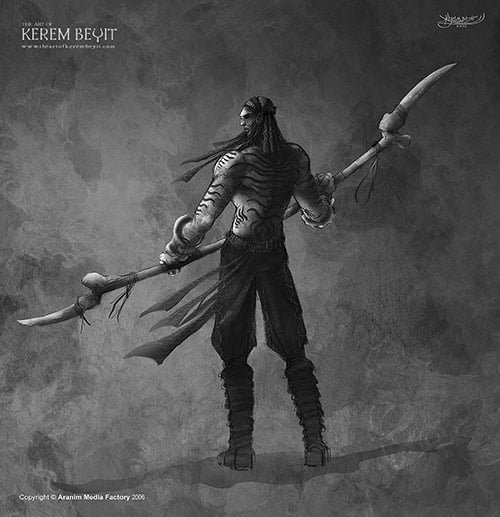 Constantine Sketch
Couple Sketch
Deepwood Sketch
Dervis in Mind Blowing Sketches
Female Assasin Sketch
Mecha Sketch
Obrad Zifiryan in Sketches of Digital Artist Kerem Beyit
Prototype Sketch
Recruit in Sketches
Samurai Sketch
Slave1 in Mind Blowing Sketches
The Dragon
Urban Sketch