Inspiring Double-Sided Business Cards
To make people remember you and make impressive impact on your clients, you should try double-sided business cards. You can have interesting features on two sided business cards by promoting your brand on one side while information on the other. You can put all your creativity to have an innovative business card, which your clients will find hard to ignore.
Designers create and admire well designed business cards. Making double sided business cards is a great investment. In this article there are 20 double-sided business cards for inspiration that fit into the above description. It's a sure thing if done creatively it can help you to be remembered and stand out from the crowd. There are a wide variety of ways that these cards use both sides, and it should provide you with some ideas for your own cards, or for those of your clients.
Olivier Pineda Business Card
Cool business card design with brilliant typography. Simple yet effective.
Architect Johnny C. Toledo
Business Cards for Architect Johnny C. Toledo
FA Design
Home made business cards for artist Cassa Studio, by FA Design.
Uber Kuchen Business Card
UberKuchen is a distributor of high quality, modern kitchens. They approached INZIMO to design a new logo, brand identity, website and stationery set. They are a company proud of the high quality of their products and service and wanted an image to match.
Business Card for JM9 Design Studio
Silk laminated business card with round corners. Printed on 16pt. Spot uv.

Business Card for JM9 Design Studio
Table No1 Business Cards
Small cardboard tables for Table Nº1 business card.
Nanometh Brand Business Cards
Another cool business card. The logo was somewhat challenging as the client wanted a more joined signature look to it. Over all finish was Spot UV on front and back.
iPhone Business cards
Inspired iPhone business cards made on 350 gr with selective gloss.
Quick response Business Card Design
Quick Response business card design version 04 is a clean and highly detailed textured business card design. In version, a combination of rainbow color to attract your potential clients!

Quick response business card design
Generation Green Business Card
A branding concept for Generation Green which specialize in vermiculture (worm farming) and reuse the organic fertilizer for setting up Landscape Farming in Singapore. Given a theme Nature and Eco-Friendly. This business card using die-cutting with matte lamination as finish.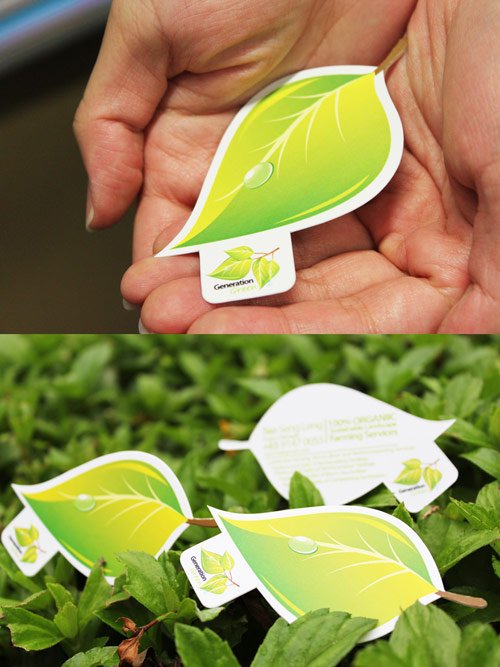 Generation Green business card
StockPodium Cards
Amazing visual search technology for royalty-free stock photos and illustrations.
Clean Social Business Card
This clean double sided business card template is available at GraphicRiver.
USB Business Card
Printed on a Business Card style USB drive, this card is not much thicker than a credit card, but has a flip out USB drive. The drive holds a product catalog and opens the companies webpage when inserted into a computer.
Beer Table
Beer Table business card is a square shape with wood texture on its one side.
Excel Business Card
This creative business card shows the Microsoft Excell ineterface. Business Card designed for a management engineer. Card resembles an excel spreadsheet implying organizational and management skill.
Typo Business Card
Cool business card with bleed lines and guides included and enabled. All text layers are full type and can be edited with the click of a button.
Garage Junkies Depot
Great personal identity card for Garage Junkies Depot. Personal service for selling any and all items.
Silk Business Card – Custom Cup Cake
This card was designed to fit the companies style, very custom and different. This special card has a custom die-cut complimented with Silver Foil and a Dusted Spot UV. You can really see the detail from the images!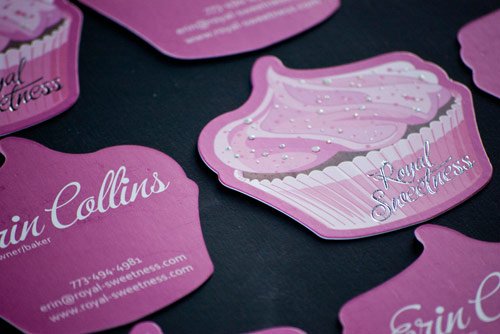 Silk Business Card – Custom Cup Cake
Tiko Trip
This double sided business card somehow reminds tic-tac-toe game. What do you think?
Culinaria Business and Place Card
Business and placecards designed by BiKlops Design. Printed by Studio on Fire.