19 Innovative Business Cards for your Inspiration
The business cards you create are important for the impression of you or your company. There are many sample business cards online but we filter them and bring you the best business cards for your inspiration like we did in our previous articles here and here.
Business cards are always an effective tool to impress and maintain relationship with you clients. There are many who are always after free business cards and if you are one of them, we have free business card templates for you as well to start with.
What happen when a business card is more than just a card. In today's post we bring you 19 innovative business cards for your inspiration. After going through these examples, we are sure you would wish to make your own business cards look more creative and effective than these. Though these cards doesn't fit to everyone but still may get handy in future for one of your client. We hope all of them will inspire you in your own endeavors to create amazing business cards.
Scratch or Scan Business Card
Bouquet Card
Playstation Business Card
Palette Business Card
Kozlova Design – Business Card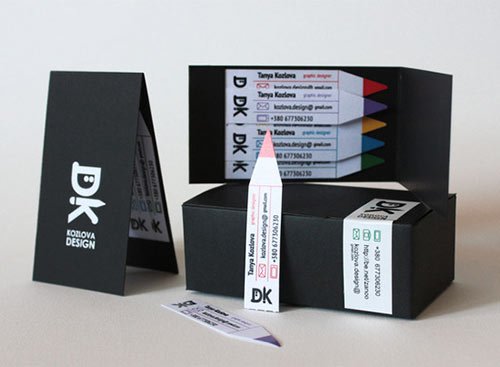 Kozlova Design – Business Card
Old School Business Card
Business Card of the Infamous Hacker Kevin Mitnick

Business Card of the Infamous Hacker Kevin Mitnick
Cool Business Card
Glammer Business Card
Business Card for Illustrator
Unique Tire Gauge Design
Restaurant Business Card
Metal Photographer Cards
Pebble Stone Design
Walnut Veener Cards
Pinkograf's Wood Business Card

Pinkograf's Wood Business Card
Debt Recovery Agency: Business Card

Debt Recovery Agency: Business Card
Broke Bike Alley: Bike Tool
Business Card Cord Wrap