32 Creative Examples of Illustrations in Web Design
One can take web design to the next level by adding illustrative elements in the design. Illustrations in the websites make them stand out from the crowd. If used properly, hand drawn elements and illustrations can give a lot personality to a layout.
We are a big fan of websites with illustrations. In this post we are sharing 32 very cool websites that are making effective and creative use of illustrations in website design. We hope the collection will be handy for your inspiration. Don't forget to check each link and share the list with your friends.
If you like this article, you might be interested in other articles on Portfolio Sites, Texture in Web Design, Responsive Web Design, Cool Backgrounds in Website Design.
Very cool website design with Christmas and holidays theme. Show some love this holiday season & adopt your very own Yeti.
Pulp Fingers is a human sized team of developer and designers devoted to create beautiful, useful, features packed apps for the iPhone, iPad & iPod Touch.
Beautiful well-designed music festival website, which held at beautiful farm in Eynsford village, next to an ancient ruined Norman castle in Kent.
MoMA's ambitious survey of 20th century design for children is the first large-scale overview of the modernist preoccupation with children and childhood as a paradigm for progressive design thinking.
Creative website with beautiful illustrations, icons and color scheme. Greenways Waste Management offer a complete waste management service, to suit organisations of all sizes.
Clean minimal website of small, British web design studio with a big reputation around the world because they design flexible websites that look fabulous on every type of device.
Website with heavy use of illustration in the background. Explore this water-saving community, calculate how much water you use at home and get your water-saving freebies.
Become Ed – the most loyal of Santa's elves – and save this year's Christmas. The new point&click game by AtomClick is waiting for you
The most corrupted post-Soviet city has finally waken up from its never-ending winter darkness. While some of the Russian grannies are making her name known by trying to become a mega pop-star band by singing mellow tones in the Eurovision Song Festival, other senior-ladies prefer more aggressive melodies – smashing their neighbors mailboxes in the iPhone/iPad game Mailboxing!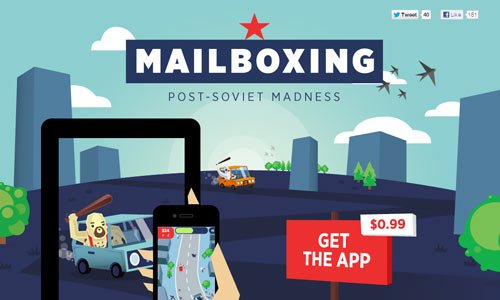 Sustainable, global, innovative or cultural? Take the test and discover your profile!
Creative website with brilliant use of parallax animation. Thinknologies deliver smart, next-generation solutions for desktops and mobile devices using advanced technologies, which combine excellence in design, quality and service.
Excellent use of illustrated elements in this website design. Talent Pool is a Carbonmade's new matchmaking service. For creatives and the talent hungry folks who want to hire 'em.
NewCompany.Name is a service provided by Adlervia.com, a small European copywriting agency owned by Ivica Duricova – a highly qualified Slovak copywriter with international experience.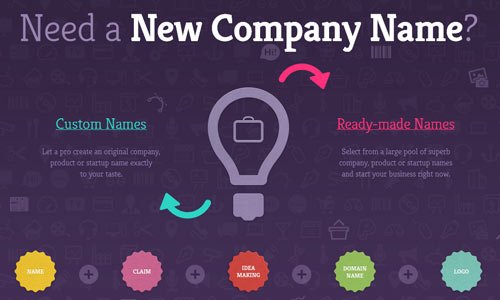 Peoplerise is ISO 9001:2008 certified for the design and delivery of training services for middle and top management.
Sol Studio is a clean and creative website of an interactive designer. It's a very very little interactive agency in Valencia, Spain. The illustrated face follow the mouse as you move on the screen. You'll enjoy visiting this website.
Ideematic is a web agency based in Strasbourg, who are specialist in website creation, eCommerce websites, communication and natural SEO optimization.
We're changing the way engineers change the world. The Lassonde School of Engineering is preparing tomorrow's entrepreneurial and socially conscious professionals to transform the way we think, communicate and live our lives.
Impressive website with Christmas theme wishing Happy Holidays to their clients.
For generations in the furnishing, Lidia and Luca decide to create Atelier Mo.Ba., merging their different experiences in a new and unique project.
Impressive use of CSS and jQuery. If you go to this website, you will feel like you are viewing some Flash website. Enjoy!
Media Engine is an award winning creative agency in Perth, Western Australia, that offers a complete solution to a business' marketing needs.
Inspiring colorful web design with excellent use of icons. A must see website for designers.
Rooftop Cinema is fully licensed and serve delicious burgers and fries (vegetarian options also available) right up to the start of the screening.
To celebrate their 10th anniversary, use this timeline to interactively explore Energy Trust of Oregon's history.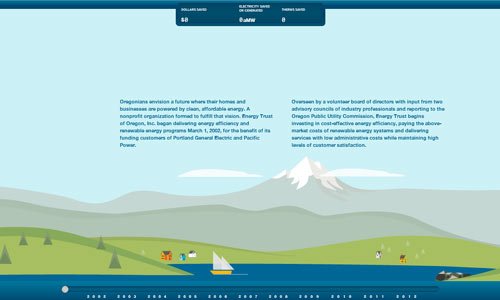 Established by Jacqui Tong in 2009, The Production Kitchen specializes in made-to-order cakes and cupcakes. You will find amazing illustrated and hand-drawn elements in this website.
Inspiring white background website design. The official website of Tourism Bruges. Discover Bruges' arts & heritage, culture, food, hotels, outdoor, lovespots and more.
Cool website design with inspiring animation using CSS and jQuery. The stats are shown in very creative way. Must visit.
In the conventional world of bears, it is frowned upon to befriend a mouse. And yet, Ernest marginal big bear, clown and musician, will welcome home the little Celestine, an orphan who fled the underworld rodents. Both solitary will support and comfort, and thus upset the established order.
Cool illustration based website from Adobe. The website shows the power of HTML and CSS through examples. Excellent inspiration for all web designers.
If you'd like to be the new Community Manager at Penguin Press, then please, help us cheer up this Penguin.
Every three weeks there is a fatal accident related to TV tip overs. Don't become a statistic and learn more by visiting tvsafety.org.
A design and illustration studio of Jen Adrion and Omar Noory who craft modern cartographic goods, create informational illustrations, and write about the business of art.