Ask Nick How To Use Useless Junk
Nick Georgiou is among those artists who use useless junk very cleverly. We use to read off newspapers and books in past but every thing has gone digital now and you can read everything on your screens.
In this post we have collected some amazing paper sculptures from nick's blog. I really like the people who use their creativity and talent  to design creative things using useless junk that we can easily find around us. Thousands of newspapers goes to junk daily but Nick transform this waste into artworks. He create sculptures and art pieces out of discarded books and newspapers.
Discovering creative ways to use paper is no easy task. Nick is a great sculptor and has a gallery/studio space in downtown Tucson, Arizona. He create the sculptures and then drops them off in random locations throughout the city. He is a great inspiration for us.
Closeup
Coming Alive After Bike Crash
Two Years In Tucson
Feel Like Android
Miss My Dog
Studio Time
Digital Control
Seeing Ghosts In The Paper
Born From News
Green Reindeer
When the Earth Shakes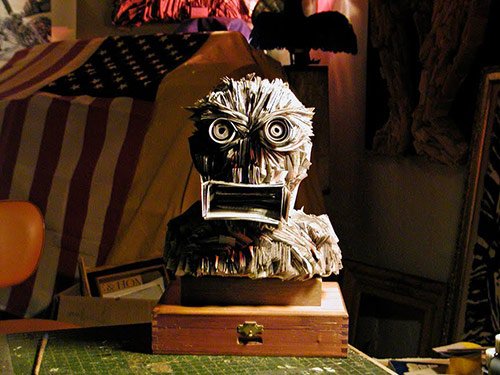 Five Eye Bouquet In How To Use Useless Junk
Let The Cactus In
Summer Sun
To Massachusetts
Untitled Souls by Nick
The Saguaro's Blossom
Portrait of Titus In How To Use Useless Junk
Images Credit: