45 Award Winning Creative Advertisements of 2011
Advertising is not simply advertising your products or services these days. With computer graphics and photography, modern advetisements allow for almost anything imaginable in the world of advertising. Companies spend millions and billions of dollars each year on advertising for their events but few ads stand out from the crowd.
In this post we showcased 45 award winning advertisements from the year 2011. You can learn a lot about being creative through these ads. You will be surprised how some advertisements manage to inspire you as well. So let's have a look at some award winning ads of 2011.
You might be interested in following related article:
Award Winning Ads of 2011
1. Karana Travelgear Steel Bed in Creative Advertisements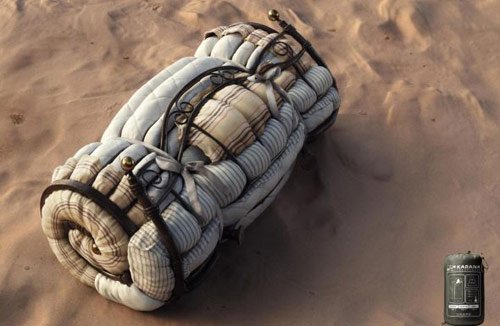 Advertising Agency: Ogilvy & Mather, Bangkok, Thailand
Executive Creative Directors: Wisit Lumsiricharoenchoke, Nopadol Srikieatikajohn
Creative Director: Paruj Daorai
Art Directors: Wisit Lumsiricharoenchoke, Nopadol Srikieatikajohn, Gumpon Laksanajinda, Ratapon Houyhongtong
Copywriter: Rudee Surapongraktrakool
Illustrators: Surachai Puthikulangkura, Supachai U-Rairat / Illusion
Photographer: Surachai Puthikulangkura / Illusion
Image Composers: Surachai P., Supachai U. / Illusion
Producer: Paiboon Suwansangroj
Account Managers: Phawit Chitrakorn, Chaowalit Vichayachakorn
Account Supervisor: Woorawit Yoosawat
2. Evergreen Travel: Nail
Advertising Agency: Leo Burnett, Hong Kong
Executive Creative Director: Connie Lo
Creative Director: Nutchanun Chiaphanumas
Art Directors: Nateepat Jaturonrasmi, Martin Tong, Pranussadej Tantipong
Photographer: Can Wong
Illustrators: James Chan, Bon Leung
Production House: Can Wong Studio
Copywriter: Sprin Liu, Nutchanun Chiaphanumas, Joey Chung, Wen Louie
Client Service: Alvin Yim
Advertiser's Supervisor: Bonnie Cheung
3. LG Mobile Phones: Mystery Novel
Advertising Agency: Y&R, Jakarta, Indonesia
Executive Creative Director: Sachin Ambekar
Creative Director: Ahmad Fariz
Art Director: Yerry Indrajaya
Copywriter: Gloria Martie
Illustrators: Flora Marcella, Budiman Raharjo
Photographers: Handri Karya, Heru Suryoko, Alex Reagan
Typographer: Yerry Indrajaya
Advertiser's Supervisor: Halim Astono
Account Manager: Wolga Satyanto
Account Supervisor: Hendra Suryakusuma
4. Criterion Knives: Fine Cut Knives
Advertising Agency: Ogilvy & Mather, Bogota, Colombia
Executive Creative Director: John Raul Forero
Creative Director: Juan Jose Posada
Art Director: Camilo Ruano
Account Executive: Fabio Quiroga
Copywriter: Julian Gutierrez
Executive Producer: David Alvarado
Photographer: Dario Mora
5. Gollog: Rabbit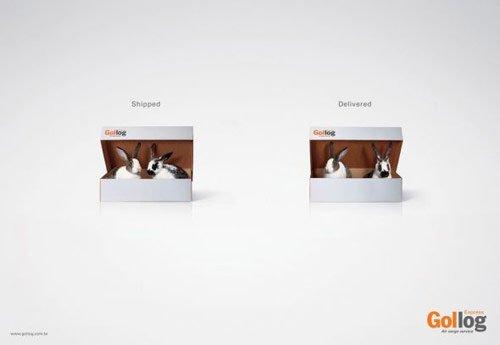 Advertising Agency: AlmapBBDO, Sao Paulo, Brazil
Executive Creative Director: Marcello Serpa
Creative Director: Luiz Sanches
Art Director: Bruno Prosperi
Copywriter:Renato Simoes
6. Instru Optiikka: Eagle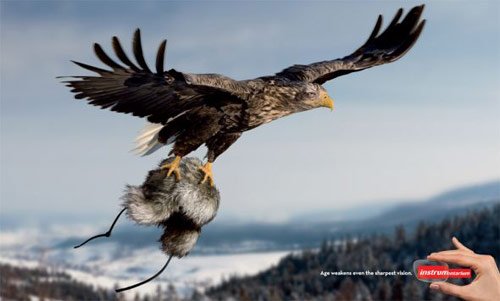 Advertising Agency: TBWA\PHS, Helsinki, Finland
Creative Director: Mikko Torvinen
Copywriter: Antti Heimo
Art Director: Miika Kumpulainen
Account Supervisor: Eija Anteroinen
Account Manager: Sara Hirvonen
Photographer: Garrigosa Studio
Advertiser's Supervisors: Sirpa Vesamaki-Koivisto, Jan Koskinen, Catarina Fagerholm
7. Jeep: Climber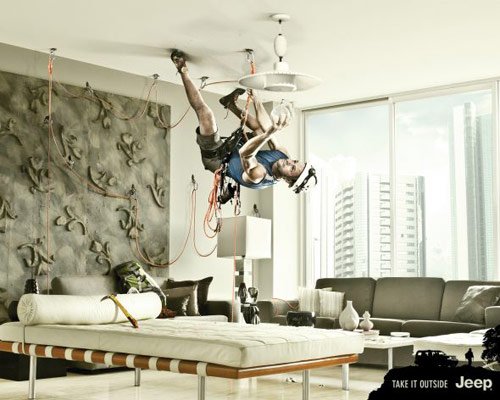 Advertising Agency: Leo Burnett Caracas, Venezuela
Creative Directors: Ali Armas, Fabian Bonelli
Art Directors: Eduardo Gomes, Ali Armas
Copywriter: Manuel Fleitas
Photographer: Claudio Napolitano
Published: November 2010
8. Citric: Balloon
Advertising Agency: Draftfcb, Argentina
Executive Creative Director: Javier Campopiano
Creative Director: Lulo Calio
Copywriter: Claudio Brutto
Art directors: Lulo Calio, Martin Stuart
Ilustration: Cristian Turdera
3D Ilustration: t3rcera
Retouch: Diego Huesca
9. Kia Motors: Drive-in
Advertising Agency: BerntzonBylund, Stockholm, Sweden
Art Directors: Johan Gustafsson, Erik Olsson
Creative Director: Hans Bylund
Photographer: Marcus Kurn/Sylvie
Published: January 2011
10. Novartis Otrivin: Crab
Advertising Agency: BBR Saatchi & Saatchi Tel Aviv / Switzerland
Chief creative officers: John Pallant, Roger Kennedy, Derek Green
Executive Creative Director: Yoram Levi
Creative directors: Nadav Pressman, Ad Noy
Art directors: Yuval Zuckerman, Udi Ovadia, Fiona Parkin
Copywriters: Idan Regev, Eliad Friedman
VP Planning: David Kosmin
Senior Planner: Guy Gordon
Planner: Carolyn Dateo
Account supervisors: Stéphanie Rupp, Kirsten Kollerie
Advertiser's Supervisor: Philippe Zell
Account Managers: Mélanie Foucher, Elena Ballestreros
Published: April 2010
11. Pharex Carbocisteine: Cinema
Advertising Agency: DM9JaymeSyfu, Manila, Phillipines
Chief Creative Officer: Merlee Jayme
Executive Creative Director: Eugene Demata
Creative Directors: Louie Sotto, Jerry Hizon
Creatives: Allan Montayre, Pinoy Reyes
Art Director: Miko Quiogue
Copywriter: EJ Galang
Group Account Director: Ronald Barreiro
Account Director: Ria Buenafe
Account manager: Ina Vargas
12. Wildlife Reserves Singapore: Teacher
Advertising Agency: Grey Group, Singapore
Chief Creative Officer: Ali Shabaz
Creative Director: Joseph Tay
Art Director: Tan Zi Wei
Production Manager: Wong Cheng Wah
Account Executive: Sidhaesh Subbrahmanyam
Copywriter: Dunstan Lee
Photographer: Teo Chai Guan / Teo Studio
DI: Magic Cube
13. KIKA: Daan is home again
Advertising Agency: Publicis, Amstelveen, Netherlands
Creative Directors: Marcel Hartog, Jeroen van Zwam
Art Director: Paul Wagemaker
Copywriter: Arnout Robbe
Photographer: Marius Roos
Artbuyer: Ron Townsend
14. WWF: Circle of life
Advertising Agency: Grey Group, Singapore
Chief Creative Officer: Ali Shabaz
Art Directors: Alex Tan, Ang Sheng Jin
Production Manager: Bobby Koh
Copywriter: Joseph Cheong
Photographer: Kin Yee / Teo Studio
Retoucher: Felix Wang
Props Maker: Kin Yee
15. Rolling Stone Magazine: Baby
Advertising Agency: Ogilvy, Frankfurt, Germany
Executive Creative Director: Dr. Stephan Vogel
Creative Director: Helmut Meyer
Art Director: Eva Stetefeld
Copywriters: Taner Ercan, Dr. Stephan Vogel
Art Buyer: Christina Hufgard
Photographer: Stockmaterial
Advertiser's Supervisor: Rainer Schmidt
Account Supervisor: Dr. Stephan Vogel
Consultants: Peter Heinlein, Georg Fechner
16. Surfrider Foundation Europe: Detergent bottle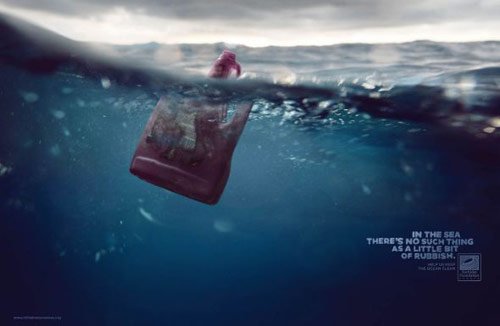 Advertising Agency: Young & Rubicam Paris, France
Creative Director: Les 6
Art Director: Sébastien Guinet
Ass Art Director: Julien Hérisson
Copywriters: Josselin Pacreau, Felipe Machado
Photographer: Ben Stockley
Retoucher: Asile
Art buyer: Sylvie Réveillard
Model Maker: Jean Benne
Published: March 2010
17. Surfrider Foundation: Seal
Advertising Agency: Young & Rubicam, Paris, France
Creative Director: Les Six
Art Director: Grégory jeanjacquot
Copywriter: Nicolas Gérard
Illustrator: John Paul Thurlow
18. Maximidia Seminars: Vintage Facebook
Advertising Agency: Moma, Sao Paulo, Brazil
Creative Director: Rodolfo Sampaio
Art Director: Marco Martins
Copywriter: Adriano Matos
Illustrator: 6B Studio
Published: July 2010
19. International Fund for Animal Welfare: Sei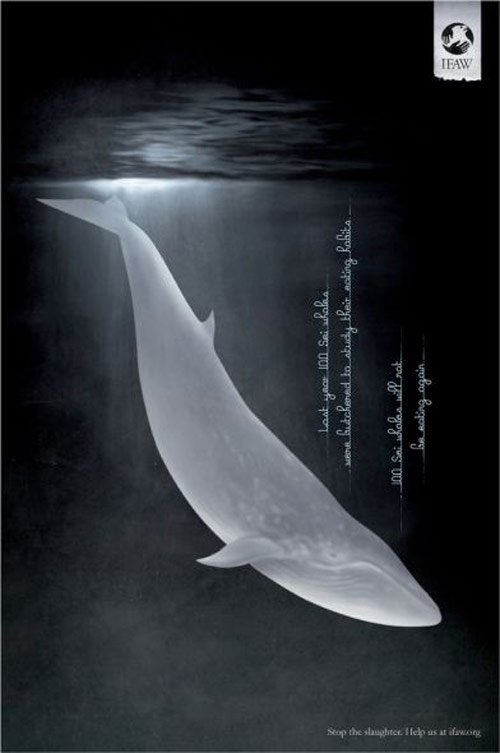 Advertising Agency: JWT, Melbourne, Australia
Executive Creative Director: Richard Muntz
Creative Director: Keith Nicolas
Creatives: Harsh Kapadia, Chris Andrews
Illustrator: Tom Bagshaw
Typographer: Darren Evans
Agency Production: Michael Travers
Account Director: Daniel King
Production Company: Central Illustration Agency
20. Berlitz: NY Taxi
Advertising Agency: FP7/BAH, Bahrain
Creative Director: Fadi Yaish
Art Director: Gautam Wadher
Copywriter: Aunido Sen
Agency Integrated producer: Mar Wai May
Photoduction House: Remix Studio Bangkok
Photographers: Anuchai Secharunputong, Nok Pipattungkul
Producer: Chanon Tungkamani
Retoucher: Chanchay Aussawanuchit
21. Surfrider Foundation Europe: Tyre
Advertising Agency: Young & Rubicam Paris, France
Creative Director: Les 6
Art Director: Sébastien Guinet
Ass Art Director: Julien Hérisson
Copywriters: Josselin Pacreau, Felipe Machado
Photographer: Ben Stockley
Retoucher: Asile
Art buyer: Sylvie Réveillard
Model Maker: Jean Benne
Published: March 2010
22. Celebrations: Gym
Advertising Agency: CLM BBDO, Boulogne Billancourt, France
Executive Creative Directors: Gilles Fichteberg, Jean-François Sacco
Head of Art: Sylvie Etchemaite
Art Director: Lucie Valloton
Copywriter: Julien Perrard
Photographer: Clive Stewart
23. Mini Chupa Chups: Sindy
Advertising Agency: DDB, Paris, France
Creative Director: Bertrand Pallatin
Copywriter: Gwen Vatin
Art Director: Sophie Montfort
Photographer: Nicolas Descottes
Art buyer: Marine Rolland
24. Colgate: Robot in Creative Ads
Advertising Agency: Y&R, New York, USA
Executive Creative Director: Antonio Sarroca
Executive Creative Director LatAM: Guillermo Vega
Creative Directors: Icaro Doria, Menno Kluin
Art Director: Alexander Nowak
Copywriter: Feliks Richter
Art Buyer: Helen O'Neill
Illustrator: Andrey Gordeev
Typographer: Jessica Hische
Retoucher: Raul Pardo
25. Fiat Ambulance Line: Cannon
Advertising Agency: Leo Burnett, São Paulo, Brazil
Creative Director: Ruy Lindenberg
Art Directors: Renato Butori, Alexandre Pagano, Henrique Del Lama
Copywriter: Mario Cintra
Illustrator: Vetor Zero
Published: January 2011
26. Volkswagen: An all-new interior
Advertising Agency: AlmapBBDO, São Paulo, Brazil
Chief Creative Officer: Marcello Serpa
Executive Creative Director: Marcello Serpa
Creative Directors: Luiz Sanches, Sergio Mugnaini
Art Director: Fabio Benedetto
Copywriter: Luciana Haguiara
Illustrator: Vetor Zero
27. AIDES: Charlie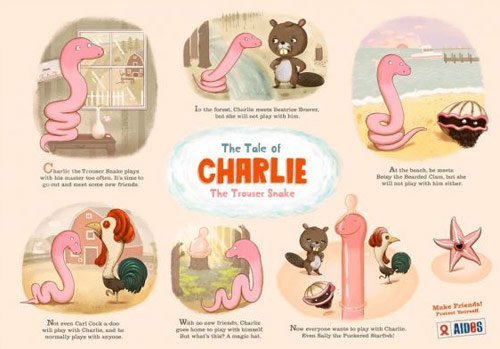 Advertising Agency: Goodby, Silverstein & Partners, San Francisco, USA
Executive Creative Director: Erik Vervroegen
Art Director: Adrien Bindi
Designer: Mandi Lin
Account Executive: Francois Grouiller
Copywriter: Nathaniel Lawlor
Illustrator: Andy Ward
Print Producer / Art Buyer: Britt Gardner
Operations Manager: Renee Fisher, Mignonne Lysiak
Digital Artist: Joel Scott Wheeler
French Translator: Veronique Sels
28. Siemens Ventilation System: Keep Your Kitchen Fresh, House
Advertising Agency: Ogilvy, Beijing, China
Executive Creative Directors: Bill Chan, Doug Schiff, Wilson Chow
Creative Director / Art Director: Shiyang He
Account Executive: Xinglun Liu
Copywriters: Doug Schiff, Lianhui Hao
Photographer: Xiaohang Liu
Illustrator: Jian Sun
Published: 2011
29. Land Rover: Grassland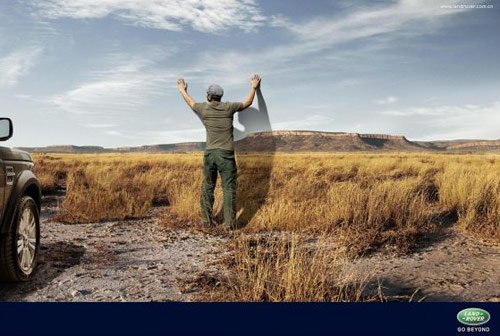 Advertising Agency: Y&R, Beijing, China
Chief Creative Officers: Marcus Rebeschini, Nils Andersson
Executive Creative Director: Nils Andersson
Creative Directors: Nils Andersson, Marcus Rebeschini, Mike Shackle, Graham Lang
Art Director: A S Anam
Copywriters: Nils Andersson, A S Anam
Illustrators: Raul Pardo, Cream/Wishing Well
Photographers: Kerry Wilson, Sebastian Siah
Typographer: Raul Pardo/ Lee Aldridge
Account Manager: Lucy Harries
Account Supervisors: Henry Chan, Bryce Whitwam
30. Fedex: USA-Brazil in Award Winning Advertisements
Advertising Agency: DDB, Brazil
Creative Directors: Rodrigo Almeida, Renata Florio, Sergio Valente
Art Director: Max Geraldo
Copywriter: Aricio Fortes
Photographer: Manolo Moran
Via: adgoodness
31. National Geographic Kids Magazine: Oil Spill
Advertising Agency: FoxP2, Cape Town, South Africa
Executive Creative Directors: Andrew Whitehouse, Justin Gomes
Creative Directors: Andrew Whitehouse, Justin Gomes
Art Directors: Ryan Barkhuizen, Clement Langlais, Andrew Whitehouse
Copywriters: Justin Osburn, Clement Langlais
Illustrator: Ryan Barkhuizen, Clement Langlais, Andrew Whitehouse, David Whitehouse / Nine Degrees
32. Heineken: Beach Camouflage
Advertising Agency: Y&R Puerto Rico
Creative Director: Sylvia Soler
ACD / Copywriter: Gerardo Vazquez
Senior Art Director: Arturo Perez
33. Oishi: Keeps you alert, Owner
Advertising Agency: Y&R, Thailand
Chief Creative Officers: Trong Tantivejakul, Marcus Rebeschini
Executive Creative Director: Jon Chalermwong
Art Directors: Thirayu Taninpong, Jon Chalermwong, Marcus Rebeschini
Copywriters: Ekapol Srisuntornpinit, Trong Tantivejakul
Planner: Patcharin Tanchaiekkul
Account Managers: Tida Vibulvanich, Ratanawadee Lertviriyavanich, Darunrat Vasanachitt
Photographer: Anuchai Secharunputong
Retoucher: Raul Pardo
Designer: Somjai Satjatham
34. Quilmes Beer: Get the night started
Advertising Agency: Young & Rubicam, Buenos Aires, Argentina
35. Mercedes-Benz: Wiebke in Award Winning Ads
Advertising Agency: Jung Von Matt / Limmat, Switzerland
Executive Creative Director: Alexander Jaggy
Creative Directors: Fernando Perez, Livio Dainese
Account Manager: Urte Krause
Account Supervisor: Thomas Hinderling
Art Buyers: Ilonka Galliard, Deborah Herzig
Photographer: Hannes Kutzler
36. Midea Security Cameras: Safe
Advertising Agency: Ogilvy, Shanghai, China
Executive Creative Director: Kevin Lee
Creative Directors: Kevin Lee, Kit Ong
Art Directors: Robin Wu, Minsheng Zhang, Jordan Dong, Zhang Lei, Kevin Lee
Copywriter: Kit Ong
Photographer: Keno Zhao (Refine Images)
Typographer: Robin Wu
Retoucher: Joo Jeoh (Refine Images)
Account Manager: Cissy Shen
Account Supervisor: Shining Gao
37. Shieldtox Naturgard: Frog
Advertising Agency: Euro RSCG Bangkok Limited, Bangkok
Photography Studio: Remix Studio Company Limited, Bangkok
Executive Creative Director: Asawin Phanichwatana
Creative Director: Asawin Phanichwatana, Sitthaichai Okkararojkij
Art Director: Krisda Chamchuen
Production Manager: Chainarong Watanathanakun
Account Executive: Koblarp Narukatpichai
Copywriter: Sitthichai Okkararojkij
Photographer: Remix/Nok
Illustrator: Anuchai Secharunputong
38. Cafe Suplicy: Meeting
Advertising Agency: F/Nazca Saatchi & Saatchi, São Paulo, Brazil
Creative Directors: Fabio Fernandes, Eduardo Lima
Art Director: Keka Morelle
Copywriter: Andre Faria
Illustrator: Mario Niveo
Photographer: Lucio Cunha
Published: May 2010
39. Cafe Taina: Don't Sleep, Prisoner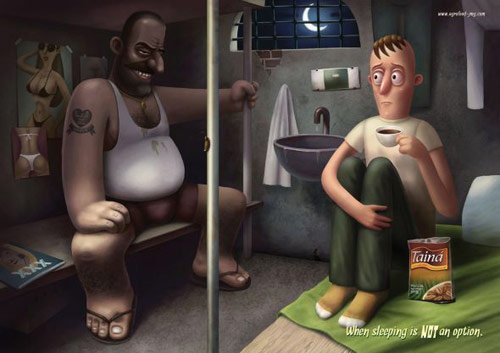 Advertising Agency: Giovanni+Draft FCB, São Paulo, Brazil
Creative Directors: Adilson Xavier, Ricardo John
Head of Art / Art Director: Benjamin Yung Jr
Copywriter: Ricardo John
Illustrator: Andrey Gordeev
Published: February 2011
40. Samusocial: Asphaltisation
Advertising Agency: Publicis Conseil, France
Chief Creative Officer: Olivier Altmann
Creative Director / Copywriter: Véronique Sels
Head of art: Frédéric Royer
Art Director: Alexandra Offe
Account Supervisor: Jean-Patrick Chiquiar, Emmanuelle Henry, Débora Guarachi
Photographer: Marc Paeps
Art buying: Jean-Luc Chirio
Production: Gael Cheval, Charly Forin @ Elysian Fields
Published: April 2010
41. Terra Travel: Architect
Advertising Agency: DDB, Sao Paulo, Brazil
Chief Creative Officer: Sergio Valente
Executive Creative Director: Sergio Valente
Creative Directors: Guilherme Jahara, Marcelo Reis, Cassiano Saldanha
Art Director: Gustavo Victorino
Account Executives: Ricardo Zanella, Karen Fuoco, Camila Gertner
Copywriter: Otavio Schiavon
Photographer: Fernando Zuffo
42. Unicef: Toy soldiers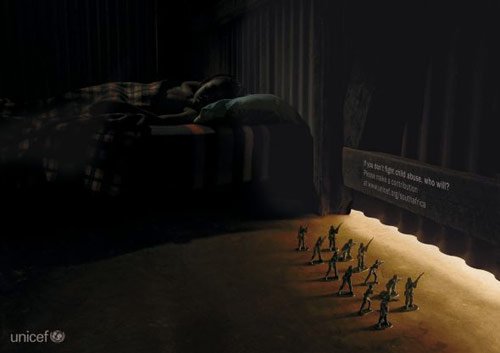 Advertising Agency: Y&R Johannesburg, South Africa
Chief Creative Officer: Michael Blore
Executive Creative Director: Liam Wielopolski
Art Directors: Alison Stansfield, Mbuso Ndlovu
Copywriters: Ian Franks, Sebastian Schneider
43. Volkswagen: Paint Bucket
Advertising Agency: Grabarz & Partner Werbeagentur Hamburg, Germany
Executive Creative Director: Ralf Heuel
Creative Directors: Timm Weber/Goesta Diehl, Oliver Heidorn
Art Director: Thomas Schmiegel
Copywriter: Kerstin Correll
Advertiser's Supervisor: Ramsis Moussa, Dr. Stefan Pfeiffer
Account Supervisors: Reinhard Patzschke, Stefanie Kirsch, Jennifer Fabian
Art Buyer: Anna Simdon
Photographers: Tom Mennemann, Christa Klubert
Graphic Artist: Milena Pfannkuche
44. Amnesty International: Firing squad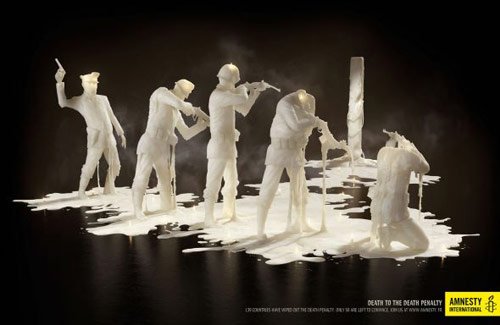 Advertising Agency: TBWA\Paris, France
Creative Directors: Eric Holden, Remi Noel
Copywriter: Benoit Leroux
Art Director: Philippe Taroux
Producer: Mecanique General
Art Buyers: Barbara CHevalier, Dorothée Dupont
45. League Against Cancer: Beach
Advertising Agency: Y&R, Lima, Peru
Executive Creative Director: Flavio Pantigoso
Head of Art: Christian Sanchez
Copywriter: Jorge Soto, Carlos Banda
Art Directors: Charlie Valderrama, Ken Tokashiki
Agency Producer: Malena Mellado
Planner: Eduardo Grisolle
Account Director: Manuel Ahumada
Executive Account: Maria Belen Maldonado
Production: Imabri Producciones
Photographer: Alex Freundt
Post Production: Midas Digital
Retoucher: David Vega