30 Award Winning Print Ads
To be perfectly honest, most print ads aren't that great. In fact, many of them are terrible, lacking original thought and creative flair. But like the little girl in that old poem (by Henry Wadsworth Longfellow, to be precise), when print ads are good, they are very, very good. We explore 30 of the best print ads from recent years below. But don't just take our word for their quality. All have been deemed suitable recipients of the most prestigious advertising awards going.
Bazooka chewing gum has been around since the end of World War II, so it's had plenty of time to perfect its marketing technique. This ad, showing a boy crashing his go-kart into a tree, has received widespread acclaim.
When you're in pain, 'everyday moments seem impossible'. This sentiment is expertly depicted in this ad for pain-easing Voltaren cream. The subject's shoelaces seem a mile away.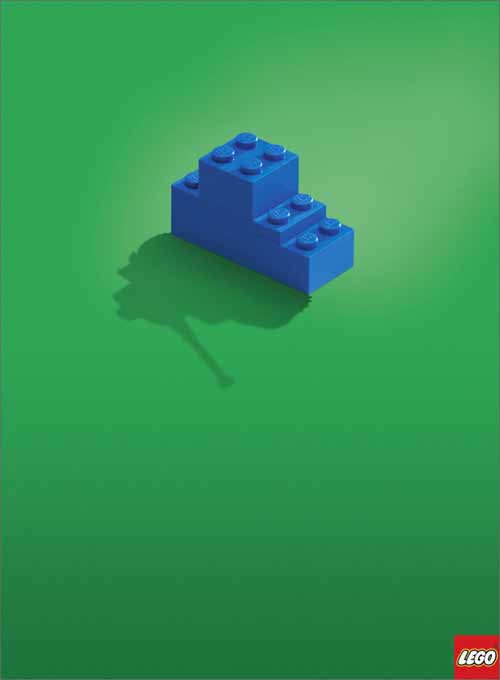 Bold and eye-catching, this Lego print ad captures a childlike imagination – one in which a simple plastic brick can be a giant tank, or anything else for that matter.
This FoxP2 ad for National Geographic Kids suggests that the channel can be watched by parents and their kids together. Who wouldn't want to 'Take them there'?
Hangovers are dangerous, especially if you're a fluffy kitten chilling out in the vicinity of the sink. Very funny stuff.
This print ad, entitled 'Left the Wedding', cleverly portrays the diversity and dedication found among National Sea Rescue Institute volunteers in South Africa.
You've just got to love the art direction in this superb ad for glass cleaning solution, Glassex. So simple, so perfectly executed.
Just like a human on a rollercoaster, spin a filthy shirt at 1,300rpm and things will start to spew out! This is a rather disgusting ad, but it does grab your attention.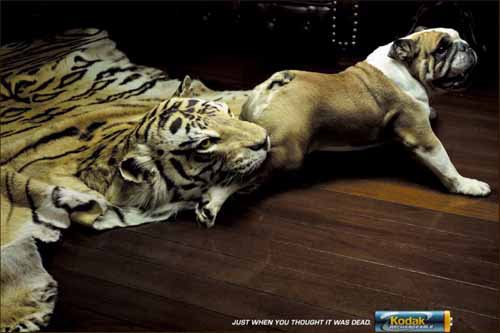 Kodak batteries keep on running! That's the message behind this hilarious print ad, featuring a tiger and a chubby little bulldog.
Ever wondered what goes on inside an igloo? Why, they watch TV and eat Pringles, of course! The Inuit are not so different from you and me.
CLM BBDO created this ad to demonstrate the quality of HP brand printer rendering. Little touches, like the way the panda's hair sticks through the girl's fingers, really bring this image to life.
Pilot pens are so water resistant, you can even write on your goldfish. I wouldn't try though – they find it most degrading (see the WWF ad in this list.)
A French print ad by Callegari Berville Grey that's guaranteed to make you feel a little queasy. Did you overeat last night?
We all want to see the Queen dressed in traditional, African headgear, but sadly that isn't going to happen. This ad, designed by Zapping/M&C Saatchi, Madrid, is the next best thing.
A giant guinea pig, the size of an electricity pylon, blocks the path of your train. It's enough to strike fear into the heart of any commuter. Other print ads in the same series feature oversized stampeding chickens and beavers.
If you're a clean freak, this ad will surely make you cringe – it's absolutely disgusting – enough to draw anyone towards the nearest bottle of hand sanitizer.
Sometimes, there's no image more powerful than one drawn from real life. The image of this dead seabird has not been doctored in any way. Inside its body you can see various bits of human waste, mainly plastic, which really should not be there.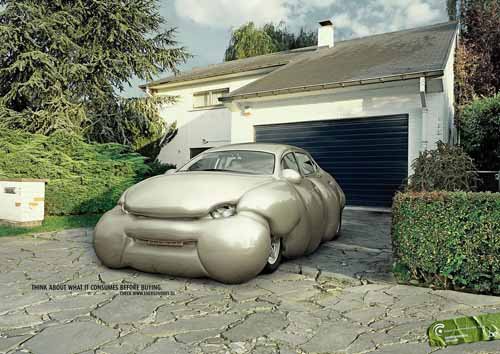 Think you're saving money when you buy a second-hand car? Not necessarily. It might be a gas-guzzler and turn into a real fatty (metaphorically, of course) like this overweight hunk-a-junk.
Such a cute concept, this ad perfectly reflects the cosy benefits of ready-to-bake bread rolls.
Is your snoring robbing your partner of his or her well earned sleep? If it is, you might be depriving them of their dreams. Such a funny idea this one.
Tamiya manufactures plastic and resin kits for modellers. If you're excited at the prospect of reassembling this smashed fruit, then Tamiya's products are probably perfect for you.
The world-famous board game is brought to life in this tremendous image.
This bike's going nowhere. And nor will yours if you use a CLIMA lock.
This is the second Lego print ad in this list. Don't feel like you have to build a sea-faring vessel when you buy the Imperial Flagship Lego set – you can build whatever you like. Even a flying beetle boat! The possibilities are endless.
Not so sure about the wording, but the image is superb. Never has a dog looked so edible.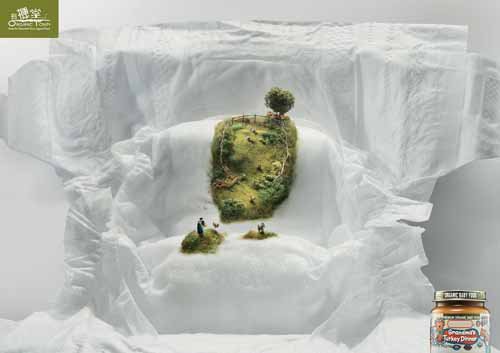 To be perfectly honest, this ad is crap, but it just so happens to be the best crap ever, complete with a tree, wooden fence and an assortment of wildfowl!
The WWF is famous for its provocative, attention-grabbing advertising and this example – featuring a trio of endangered polar bears, daubed in graffiti – is no different.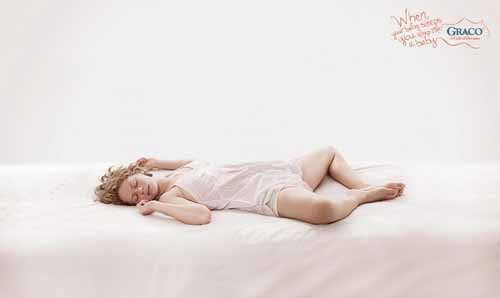 An absolutely ingenious concept – think not about how well the baby sleeps, but about how much the parents will be affected. They're the ones with the pockets full of cash to spend.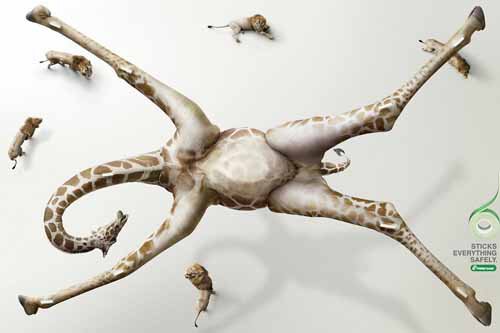 So many award winning ads feature animals. This one stars a giraffe in a rather precarious position. Unlucky for the circling lions below, the giraffe's stuck well out of harm's way thanks to Polar Bear mounting tape.
Created by DDB, Berlin, for Bosch, this ad was designed to promote fridges with VitaFresh technology. The colour and texture of the meat looks so realistic. It's gross and funny in equal measure.