20 Wonderful Textures and Patterns to Compliment Website Layouts
List of beautiful websites where textures and patterns is used in a very creative way. You'll definitely like these amazing website layouts.
Textures and patterns have always been a part of website designing since they've always been around. Textures and patterns were not used before as much as they are being used now. Textures and patterns have so much variety now-a-days that most designers prefer using them in different colors and designs. Textures and patterns are two different things; textures are big and no-repetitive whereas patterns are repetitive and small in design. Good textures and patterns have the capability of giving powerful 3D effects. Textures and patterns can also be used to show different section of a website making it easy for the users to navigate. There are all kinds of textures and patterns available online; some are loud with bold strokes and some are mute and flat with subtle strokes; all are equally wonderful to behold and are used to compliment different designs depending on the designer's view and his/ her aim to give all users the best possible experience. As textures and patterns give designs continuity and a timeless look most designers choose among the available textures and patterns which are available aplenty over the net.
Today we bring to you all a compilation of awesome websites using textures and patterns to accent their designs in a most stylish and unique way. Behold these wonderful websites and enjoy their designs to get maximum inspiration for your own ingenious web layouts.
If you like these website layouts, you might also like;
Textures and Patterns in Web Design
Enjoy all the good vibes and great sandwiches at a Potbelly Sandwich Shop near you today.
Food and drink to fuel body and soul. fresh, local and hand-crafted, all day long.
Looking for a hand-picked quality gift for a special occasion, but not sure what to get, then leave the thinking to these guys. Check out their website.
From the Stars of The Trailer Park Boys come SWEARNET THE MOVIE The funniest, sweariest, most fucked-up movie you will ever fucking see!
Are you a real taco champion? Test yourself taco game and make ready for a taco Friday!
A repository of gorgeous design, from wedding invitations and personalized handkerchiefs to custom favors and packaging.
The love that we put into making Sabra Salsa means a better, fresher salsa. Sabra Salsa – Made with Love.
With Sabra's amazing range of flavours, you can dip life to the fullest. Explore our delicious hummus dips, salsas and guacamole and find recipes at sabradips.ca.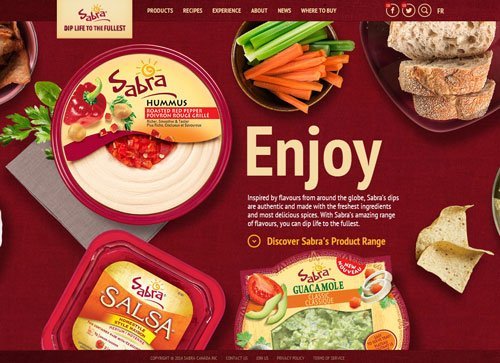 Corum is a Swiss watchmaker based in La Chaux-de-Fonds, Canton of Neuchâtel. Founded in 1955, it makes high-quality and high-price watches, many of which are limited editions.
The Conference On August 19-20th 2014 creators, communicators and innovators of all kinds will gather in Malmö, Sweden, to share their insights on human behavior, new technologies and how to execute ideas.
Business website design in Chichester from Chichester Design.
Prototype Designer and developer Nick Jones. UI, UX, JavaScript, CSS3, HTML5 design and development. This website is a portfolio of web and app work I did 1999-NOW. A gallery of interfaces for responsive and pre-responsive websites, apps and games.
Letters Inc. is Japanese web design firm making stylish web site for the world's leading companies. As we won some design awards, we become known to the world as a great creative team. Our creativities are based on Human Centric design. We are professional in UI and UX. Please enjoy our cool design & technology!
A digital agency with offices in Minneapolis, NYC and Los Angeles. space150 is a full service advertising agency with over 14 years of digital experience.